Have you ever tried to eat "DURIAN"?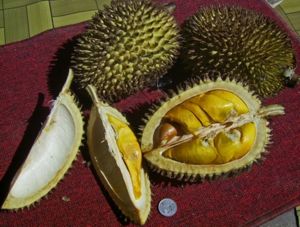 Philippines
September 24, 2008 1:22am CST
Durian is known as the "King of Fruits". There are different varieties of durian like sweet,bitter,bittersweet,etc. Sweet types of durians are used in making candies,pastries,cakes,ice cream and so on. It has a nasty odor but has an extra delicious taste. It has a wonderful creamy texture almost like vanilla pudding or custard. The flesh can be consumed at various stage of ripeness, and is used to flavour a wide variety of savoury and sweet edibles in Southeast Asian cuisine. The seeds can be also eaten when cooked. Do you love it or hate it?Do you like to taste it again?
1 response

•
24 Sep 08
yes and it's an acquired taste! we went to Davao two years ago and i watched with incredulous eyes as hubby and baby ate the fruit with gusto and i was - eeewwww! but then i tried to eat the fruit again and was able to finish a seed. you know, Durian has a very thick outer shell and for its price, you get to eat only 4 seeds per fruit.

• Malaysia
8 Oct 08
4 seeds per fruit? wow... that's small... i always have durian with like 2-3 seeds per section and like 2 big section and a small one with 1 seed or 2 small seeds. so one durian can fill a dinner plate