How to get rid of ants?

September 29, 2008 12:03am CST
I am suffring with the attack of ants everywhere in my home.They are in my bedroom ,living room and everywhere.I keep my house clean and tidy but then also they are everywhere. They have not even leave my garden.They have given eggs into my plants leaves. What should I do to get rid off them?
4 responses

• Philippines
29 Sep 08
Ants is also my problem. They are always around anywhere I go. I don't even know how to get rid ofthem. When I saw a huge numbers of ants I just spray them with Baygon. But I only get rid those group but there's still a lot of ants anywhere and they keep on coming. So far that is only my solutions, spraying anti crawling insecticides..

• United States
29 Sep 08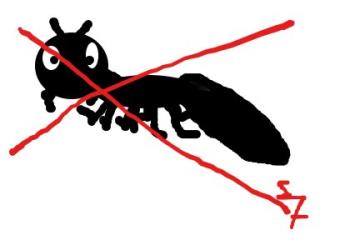 Here is a website that will tell you how to ditch your ants. Ditching ant methods depend on what species is giving you the six legged plague. * http://www.ehow.com/how_3791_rid-ants-naturally.html * My mother has tiny sugar ants giving her grief. What she does is leave out a glass with a tiny amount of sugar water to drown them in.

• United States
29 Sep 08
We had an ant problem this summer and I kind of tried to live 'with' them it was so impossible to get them to go away. Even worse is that I looove watermelon and they flock to my counters for that even while im just cutting it up. I had to keep my counters pristine and they did not bother so maybe, possible....aw, i dont know, maybe you could limit where they go. I went out and bought a borax gel you put under your counters which attracts them. Its clear and supposed to be sweet to them, is what the hardware store told me. And what do you know they disappeared! Then I find out the maintenance man sprayed around the buildings. That was a bummer too because I do not like using pesticides. I would not bring RAID (an insect killer) even 50 feet close to my house. Unfortunately, when you live in an apartment you get what you get.

• Canada
29 Sep 08
If you have oatmeal you can put this all around your house. They like the oatmeal and will go to eat it and then they will blow up and they really do blow up cause my brohter watched them do this. You can buy ant traps to and put them around your house. Outside you can put oatmel there to so they do not come in your house and they will die before they get in. Ants are no fun and some of them bite. Hoep you get rid of them good luck