Yummy to my tummy.....Crab?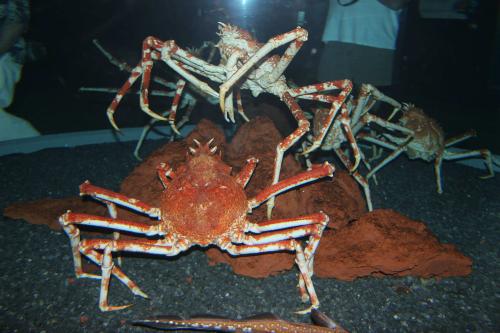 Philippines
October 1, 2008 10:59am CST
Love crab? I love it a lot and it's so yummy to my tummy. I like the best when it is serve as a crab cakes. Did you ever try one. I normally bought it in a package, It is ready to cook and it is just a good as it should be.
6 responses

• Philippines
2 Oct 08
I love crabs very much and whenever my friends and I eat out, we order crabs. I love it cooked in spicy sauce or just plain steamed. I prefer fresh crabs rather than package or frozen at the supermart. They taste much better .

• United States
6 Oct 08
I do not like seafood. I never have been able to develop a taste for it. I have tried fish, crab, lobster, shrimp, and all of that. I have never liked it though. It just has a bad taste to me.


• Philippines
1 Oct 08
[b]hi margarit! yeah i love eating crab especially its fats. the green colored thingy and i love its taste so much!! hahah!!! before i am not good with eating crabs but now i have mastered how to eat every meat it has on its shell. haha!! happy posting![/b]

•
1 Oct 08
i also love crab i adore most sea food and i think there is nothing nicer when it is fresh we are lucky as in the next town to us there is a fish market and it sells all sorts of sea food you could wish to find and cheap too. I have never tried crab cakes and have often thought about making them but never got around to it but i might try this next week.

• Malaysia
1 Oct 08
I never buy a ready to cook crab. If i feel like eating one, i just need to CATCH IT! In my area, it is to catch crab using special net and even with fishing rod. But i'm a little allergic to shelled sea animal so its not my favourite..