Babies love mirrors!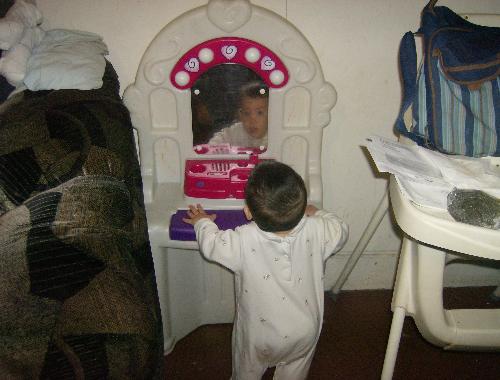 United States
October 2, 2008 8:29am CST
I just had to share this it was so cute! My daughter has this toy vanity that has a fake mirror on it. My 8 month old just found it and has spent probably half an hour staring at himself in the mirror, it's so cute! So when your baby gets bored... show him a mirror and let him stare at himself.

3 responses

• United States
2 Oct 08
lol I say it's very cute. I have a about 9 month old baby who like looking at herself in the mirror as well. They do somewhat wonder who that baby in the mirror when you don't do it often. For example, my about 9 month old baby, when I do hold her, just someewhat look at herself and sometimes I had to pointed out that there's a baby in the mirror. She just amazes me all the time. heehee I love babies and I can't believe that I had her 9 months ago (9 months old tomorrow). How time just flies on by without you knowing it until you actually sit down and think about it while looking at your baby. My kids (I have three girls) just amazes me sometimes because if you knew how tiny I am (5'0), you'll be wondering how I pop them all out. And I got lucky on not having to go through the c section operations. How many kids do you have if you have more than that baby? I have a 3 and a 7 year old.


• United States
2 Oct 08
Oh wow. 5 kids. I personally know a few moms myself who have 5 kids but for one of them, her last two are twins. Now, they are pretty much grown. Their mom works as a nurse in a jailhouse which is just scary due to there's a chance that there will always be someone out to get you of working there. We both rock on not having any c sections. C section sucks since it's pretty bad. How big were each of your babies and do you remember of your kids stories of what happened to them the day each one was born? I remember most of the details myself but I'm sure I don't remember everything. It's amazing of what we as moms, remember about our own kids. My kids are my motivation to improve myself everyday since I am so into wanting to become successful. I just enrolled myself to a online college thing. This one particular college give away free laptop and webcam for school purposes while every other ones don't do that. I start on the 13th. Besides being a student real soon, I am a freelance writer and wanted to get into translation. What do you do for income right now? My hon do give me some money and he did help me with my cell when he can. ut I prefer having it where I wouldn't need any of his money since I would be so proud that I made myself money. I am also planning to help him with his when I make more than enough. It's one of my many goals there.

• Germany
3 Apr 10
Hello katsmeow. You are right, babies love mirrors! And my baby boy is the same. I remember 2 months before, he loved to look at the mirror all the time. We did not buy him the special mirror toy. We have a big mirror so we just placed the mirror against the wall. Then bring our baby boy sit in front of the mirror and started playing the mirror game. He was always curious about the baby in the mirror. I think he did not that's him at that time ;-) He could just stare at the mirror for very long time. Touching the mirror and giggle. He was so cute when he acted like that. Have a nice day and happy mylotting.




• United States
29 Mar 10
Most babies are fasinated with mirrors which is why so many baby toys have them attached to them. They also like moving colors and sounds. Since they are just learning about the world, it isn't surprising that these types of things hold their attention. [b]~~AT PEACE WITHIN~~ **STAND STRONG IN YOUR BELIEFS**[/b]