What's your favorite Starbuck's drink,and why?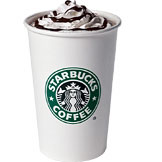 Thailand
4 responses

• Philippines
8 Oct 08
I don't go to starbucks at all because they are expensive. I just love coffee and hot chocolate too. Cheers!!


• United States
5 Oct 08
I like the caramel frapochino,and strawberry cream

•
5 Oct 08
None, never ever buy there, please. From an expense point of view, how much do they charge? from an ethical point of view how much do those poor farmers get for the coffee that breaks the bank at this end. Why do they over inflate all the prices?? The only good thing is popping in to there to grab a few packs of olds coffee grounds for the garden for free! Have a coffee of frozen lemonade party for your friends, how much more enjoyable is that than sitting in a generic cafe? It'll probably cost you a lot less and you can have some fun with your friends instead? I'm sorry if I come across harsh, I just upset that big business kills all the local and individual sellers and products we can buy. It destroys the resources of the poorest coutries while these companies prosper while paying another poor person the breadline wage for working in their shops. Certainly doesn't seem good for anyone but them. Phew as I said don't take me personally this is directed at starbucks and all the other coffee houses of this caliber, yours was just the avenue that gave me the abilty to help raise my concerns and hopefully educate others.