why do we need tattoos?

Singapore
6 responses

• United States
15 Oct 08
I don't think we need tattoos... I have my name on my neck ... I was drunk that day. I have a shooting star on my ankle, my daughters name on my foot. It's a form of expression. It hasn't increased my confidence one bit. lol

• United States
15 Oct 08
I am female and I have some small tattoos. Of course I didn't get them to remember a relationship. More like a time or a place in my life. Tattoos to me are like a story. They show me where I have been and what I have come from to who I am today. Some people do get them for other reasons like you said but I think it is foolish to get them to remember a relationship or to just get them. To me they are supposed to mean something important. I have a star on my right foot and its not perfect its an imperfect star. To me it means that I am not perfect no matter how hard I try I will never be perfect and that's okay as long as I try my best.

• United States
15 Oct 08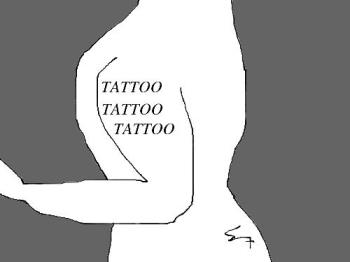 I do not have tattoos. I have an acute aversion to pain, which getting a tattoo involves a fair amount of. * The only person I know who wears tattoos is female. She has her tattoos for memories of people and mementos of relationships. * I have heard of people getting tattoos simply because the artwork is beautiful as well as the two reasons you mention: confidence in men and memories for women.

• United States
15 Oct 08
That could be true in some cases however i wouldnt say all cases.Some females get tattoo's jsut because they want them or just to fit in or some get them because they mean something. I dont have them but i do intend on getting a couple done but the ones im getting are family related for example like my childrens names and my mother,sister and brother and my grandma and grandpa but thats it after that im done because i dont really see a point in putting them all over my body however some people do it to express themself but i dont think i need to do that to express myself.

• Philippines
15 Oct 08
I don't have tattoos. Before when I'm younger I want to have tattoos but for no important reason at all. I just find it cute when I saw it from other ladies who has tattoos in their back or above their chest. Some looks sexy. But when I got older and had a boyfriend he told me that he want to have tattoo that has my name. Then I told him that I also want to have tattoo in my chest near my heart, of course written with his name. It means for me that he will be always in my heart and I will always love him. He's my love. Happy mylotting!

• United States
15 Oct 08
I was so against tattoos for the longest time. Can you believe that 2 months before my 50th birthday my soon-to-be-adopted (adoption final 8-8-08)daughter and I both got a medium sized heart on our right outer ankles - she has my name in the middle of hers and I have her name in the middle of mine. They signify our dedication, love, and commitment to each other. (P.S. I paid $50 for the both of them!) (Too bad I can't post a picture of it for you all to see - I'm very proud of it, but it's never really seen because I always wear long pants.)