Can't exercise, causing head aches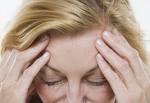 United States
October 17, 2008 2:47pm CST
I had lost 20 lbs and was very proud of myself. I slacked off a bit after I lost the 20 lbs but a couple of weeks ago when I was ready to get back on the wagon, I started walking on the treadmill and felt a head ache coming on. Then I started lifting weights and it got worse. After that I thought maybe I should try doing some at home. The next couple of days passed and I pulled out my stability ball and did a fewe different upper, lower and core exercises... and I got a head ache. Terrible head ache. I've tried this 3 more times and every single time I get unimaginable head aches. Any ideas as to what's causing this. I've started gaining some of my weight back and I really want to get back into exercising.
4 responses

• United States
22 Oct 08
It is certainly hard to help you, but I have a couple of ideas (which may or may not be correct). Terrible headaches can be caused from dehydration and if you aren't getting enough water then exercise could bring them on. I would suggest that you make sure you are getting eight glasses of water a day when you don't exercise and ten when you do. Try drinking a glass about a half an hour before you start and see if that helps. Another option could be a neck and back alignment problem. You may need to see a massage therapist or a chiropractor. I know that I have a lot of neck alignment problems which can cause horrible headaches and often working out makes it worse. If it continues I would suggest seeing a doctor because that isn't good, right, or healthy. Exercise is something we should continue on with even after weight loss, just to maintain general health.

• United States
22 Oct 08
Thank you for your input. I have often wondered if it may be an alignment issue with my neck and back. I haven't been to a chiropractor in quite a while. Probably wouldn't hurt to make an appointment even if it's not the cause of it. I did see my doctor and in a couple of weeks we're probably going to do a stress test or heart rate evaluations to check if it's my blood pressure. Again thank you for your input. And, I agree with the continuation of exercise.


• United States
17 Oct 08
It may be the way you are doing it. I would consult with a fitness center and make sure you are doing it the correct way. You dont want to hurt yourself or worse have an anyeursm. In the meantime you could do walking. Walking is certainly beneficial and will help you to keep the weight off. Good Luck!

• India
23 Oct 08
Please CONSULT A DOCTOR..................sLIGHT HEADACHES AND FEELING FEVERISH DURING WORK OUT CAN BE DUE TO DEHYDRATION. but if it is not mild and is very painful please consult a doc for godssake!!!!!!