Do You Remember Your First Car?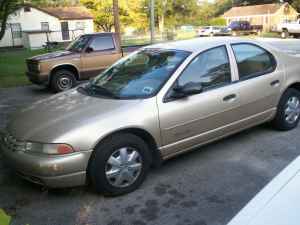 United States
October 18, 2008 10:46pm CST
My son just got his first car this week! I am so proud! And so scared! I remember my first car, it was awful. My first car was squareish beige and not cool and always breaking down. But I didn't care, I drove the heck out of it! I can remember how happy I was the first day I had it. My son is 18 years old and so far he has proved to be pretty responsible and I know I gotta let go. His car is great and most importantly has a good sound system. Anyone else have a good first car story?
7 responses

• United States
19 Oct 08
My first car was actually given to me by my grandmother. It was a Reliant K car. It was silver and very square. Very Grandma. I totalled it by hitting a deer on the way home for Thanksgiving from college to surprise my parents. The insurance company wanted to repair it, but I just couldn't. I took the money and bought an old maroon Mustang. I loved that car! I consider it my first car though, because I bought it myself.

• United States
19 Oct 08
it was a 1969 catalina she was green in color and long and big but i was so happy it was my first car of my own i could take myslef where i wanted to go without depending on anyone i was so happy i also had my first apartment too i was set i had fun worked 2 jobs but it was worth it.

• United States
19 Oct 08
my first car was an 88' Hyundai Excel lol! yes a real quality vehicle! it was a hatchback too. i had to be going downhill on a long onramp in order to be at 40mph when i got on the freeway!! if it was a short uphill ramp, i wouldnt dare try to enter the freeway. waaay to scary when a big old semi comes screaming up your rear and you're barely at 35mph! and it was even gutless when trying to make left turns. nothing i hate more in a car than when it doesnt have the guts to get my butt out of the intersection on a left turn when i need to! i think it was the xls model, or something like that, you know the one with the extra options of, wait for it....rear window defroster WITH ::gasp:: windshield wiper to boot! O M G its just too impressive. but by far the worst luxury option that car had was an A/C. i havent a clue why a/c was even offered as an option! when you tried to run it, the massive and oh so powerful 4 cylinder jet engine would bog down so bad that you'd swear there was only 2 cylinders and a hamster under the hood lol!

• United States
24 Nov 08
I'm not too much older than your son, 19, and have been fortunate enough to have father who is a successful car mechanic. Working to save money and then modifying my car is my hobby, and I've come to understand what it means to do something on your own. I learned how to drive when I was 8 and first drove a stick when I was 9. He had my first car set up for me before I was 16. I've been around cars all day, everyday, for my whole life but I still realized how significant my first car was. I've always been tied to my parents for my entire life so getting my license meant going off on my own for the first time in my life. My best friend and I took it everywhere and it saw many fun times..it was a 1995 Mazda Milenia that was in great condition, 80k miles on it. I didn't care at the time what it was, I was just happy to be able to get wherever I needed to go (albeit, with my parent's permission) and that was my first step to becoming as independent as I am today. I'm still learning to discipline myself with spending money on my car (I just spent $680 on a new part! ?_?) but I've definitely come a long way. Sorry if I got off topic a little, good luck with your son, though. I know we can be a handful sometimes and I see how much my mom hates to see me get older.

• United States
21 Oct 08
My grandfather sold me his car for $1, back in 1976, if he had just given it to me I would have had to pay gift tax lol. He worked at the Ford Plant in Dallas, and he had bought that car right off the assembly line, some years later gave it to me. It was a 1965 Ford Galaxie 500, two door. I drove it back from Dallas to south Texas, and my dad and I did some work on it. I actually don't remember how long I had that car, but I did have it all through high school. She ran good for all those years. I have always had a thing for cars, and I love the muscle cars. I've had probably 6 or 7 cars, and now there is a '07 Mustang GT in the driveway, actually my s/o's, but I drive it more than he does, so much so he refers to her as 'your car'

• United States
20 Oct 08
I got my license when I was like seventeen and not long after that I got my first car which I bought off my grandpa for like five bucks because he had three cars and he did not need three cars,it was a 1978 Chevy Nova,it was blue with bucket seats and a reddish interior if I can remember correctly,I loved that car because it looked nice,and it had power to it,and I drove that car every day,until one day after school I was driving,it was raining,and I lost control and hit a welding truck,it demolished the Nova,and knocked the tire off the truck,if I had hit it father up I would have hit it head on,and farther back I would have caused it to explode cause of the chemicals,I walked away without a scratch but the Nova never moved again.