What do you do if you and your spouse have to make a decision and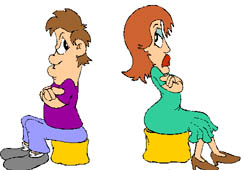 United States
October 19, 2008 12:26pm CST
you dont agree with each other? You talk things over but you cant agree on what to do? This could be remolding, a fiinancial decision but what if its an important decision? How do you reach a conclusion? What happens in your life when this happens?
3 responses

• United States
22 Nov 08
Hubby and I have run into this and it's pretty normal afterall you have two entirely different ppl, each with their own personality, trying to live in the same house. When Hubby and I run into a disagreement we usually take time to find a compromise that way we both come out ahead. [b]~~AT PEACE WITHIN~~ **STAND STRONG AND TRUST IN GOD**[/b]

• United States
23 Nov 08

Yes, If you can do it like that then you have it made. and it keeps it all simple.Good for you two!

• Ireland
23 Oct 08
My husband is a very laid back type of person and if we can't agree on a decision he usually just backs off and allows me to do what I think is best. No point in trying to argue as he is very passive and he won't even enter into an argument. Only last week, we were buying new blinds for the windows in the back of our house. I wanted venetian blinds and he wanted roller blinds. He insisted that he didn't like venetian blinds but after I ordered them and they were hung on the windows, he told me that they looked very nice. Now I am glad that I didn't give in to to him and get the roller blinds.

• United States
23 Oct 08
I am glad that the blinds worked out. That is so nice that you are both happy with the blinds.It sounds like you have a very nice husband also. He appreciated the way you made the windows look nice. It is very nice when a husband notices and cares and says its very nice!

• United Kingdom
19 Oct 08
Hello my dear friend, may I be as bold to presume that this is connected to the discussion you made previously about moving to a town that you don't like? I guess I am right and I know that it won't be easy for either of you, but in the words of one of my favourite singers Bryan Ferry 'Is your love strong enough?' you need to weigh up the pros and cons, is your relationship worth keeping? How would you fair living on your own without your husband. Are you ready to sacrifice everything? But will you end up resenting him for it? I don't envy your decision but know you will make the right one together, I hope for your sake my dear friend there is a compromise but at the end of the day you HAVE to put YOURSELF FIRST!!!! You matter, it's your life. My thoughts are with you.

• United States
19 Oct 08
I was watching a show last night. The husband and wife could not agree on anything. They would go to make a decison and they never agreed. I was wondering , how do people come to a decision when that happens? On the move, I am not going. I would rather be alone then go back there. My part of the decision is over. I guess the rest of it is up to him.The future will tell and I will do what I have to do. Appreciate your support as always, my friend!