Having your opinions validated is a wonderful feeling. Thank you Mr. Powell.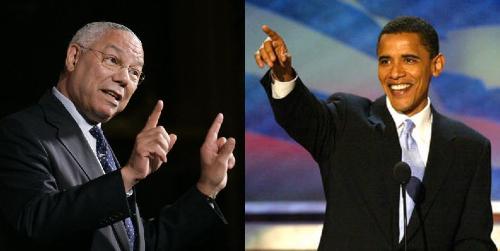 Canada
October 19, 2008 6:58pm CST
Perhaps Jerry Garcia would have sung, "What a long strange campaign it's been!" if he were around to witness the present presidential race. We have seen bizarre plot twists all along the way in this one. Hillary came THIS CLOSE to getting nominated to be the first female candidate from a major party. Barrack threw his hat into the ring officially on the anniversary of the the I Have A Dream speech, emphasizing his triumph in a historical step for minorities. Then McCain brought Sarah Palin on board for his running mate, marking a great step for women in politics. Today the latest new-unusual-boarding-on-bizarre occurence. Colin Powell, who is one of the president's major right hand men, and a Republican, spoke up declaring his support for Obama, the Democratic candidate. He even attempted to sound apologetic to Bush, but in listening to his declaration it was clear he is without regret about his decision. In fact, he went so far as to state publicly that he will vote for Obama. This absolutely thrills me personally. Even though I won't vote in the US now because I live in Canada, I strongly believe Obama has what it takes to be President and turn things around for the US. I am pretty sure that there have been Republicans voting for Democrats and vice versa in the past, but this is an outright show of support, not just a secret vote. I applaud Powell for his ...hmm... shall we call it audacity? When I lived in the states I was a registered Democrat, and I don't think I can remember a time when one government official from a party supported the other party's candidate outright. I can just imagine my grandchildren studying this election year (once I have some and they are old enough to study history). There have been so many giant steps it takes one's breath away!!
3 responses

• United States
20 Oct 08
It has been a crazy campaign and if what we expect happens in November, Barrack Obama will be the first presidents since Roosevelt's second term to have the entire congress in the same party as the president. It could make for a powerful presidency that gets things done and solves some of our problems. On the other hand, we have to be aware of the fact that it is not what the framer's of the constitution ever wanted to see happen when they carefully built checks and balnces into the system.

• United States
20 Oct 08
I'm not sure I see what the big deal is here. A man that many thought could run for the presidency and win has endorsed someone from a different party.

It has been a strange election and I do not doubt that students of the future will be tormented by having to study it, and they have my sympathy. As for turning things around, no matter which of these two wins, they had better turn things around before things here in the states turn really ugly


• United States
20 Oct 08
I think it has really been a crazy election cycle. It's nice to see Powell come out and support Obama and the reasons he gave in doing so. I will be glad when election day is over and hope that things in the US return to their semi normal state.