What crisis? Japan firm sells diamond cellphones

Singapore
November 2, 2008 6:36pm CST
i came across this article and i was like 'wow'.


a mobile phone that has 18.34 carats studded on it! this is like the ultimate luxurious phone literally. most phones are expensive because of it's features or slim look but this one really takes the cake. it cost more than US$130,000 just because of the diamonds and nothing else. i wonder if the ten phones will remain available or snapped up immediately?

more about this phone at this link: http://www.channelnewsasia.com/stories/technologynews/view/386722/1/.html
8 responses

• Singapore
6 Nov 08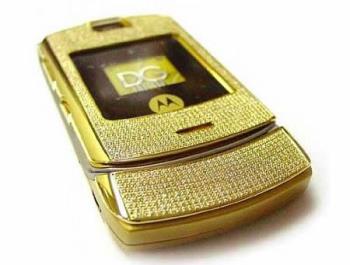 Wow, so many shiny shiny stones just to boost the price of the handset. I wonder who would want to get such a phone. We can easily make one with some glue and crystals that are easily available from Arab street for just a few dollars. Just need to spend the time and effort to do it. That is all. Not difficult at all. I did something similar for my wife on our wedding day. Custome designed and made a pair of very nice shiny crystal shoes for her to go with her gown. Not difficult at all. Just a lot of effort and time require to do it. Actually, this is not the first phone to be studded with diamonds. Motorola came out with it a while back. Refer to attached picture. In fact, they have a diamond studded Mercedez and a diamond studded Pontiac as well. I think I wrote about it here before. http://www.mylot.com/w/discussions/1331205.aspx The crazy people do when they are too rich eh?

• Singapore
6 Nov 08
lol i really like the way you put it.

yah we can do something like that for our own phones too. guess it's just a way for the rich to show off their riches. afterall, limited editions are made to earn the money of the rich. folks like you and me certainly can't afford this kind of limited edition.

i read about the diamond studded mercedes. the first thing that came to my mind was actually the fuel consumption. isn't it really heavy?


• Singapore
7 Nov 08
I wouldn't know for sure how much weight the diamonds add to the car. But I cannot imagine trying to drive such a car down the road. Especially on a bright sunny day!

The glare from the diamonds would have blinded the driver, not to mentione the other road users too!

And then you need another car with guards to look after your car when you park it to run your errands or whatever you drove out for. Too expensive to maintain lah.

• Singapore
11 Nov 08
i don't think anyone will drive such a car to run errands. most likely it'll be driven around just for fun. i'd think people will get a chauffeur for this car. most probably get the chauffeur to drop them when they go partying or something. it'd be glam enough to get dropped off in a car like that right?




• United States
5 Nov 08
Oh how ridiculous. Yes, it must be nice to have a lot of money to throw away like that, but gee, for $130,000 one could buy a whole home to live in rather than just one phone. I once did a discussion about another ridiculous news item about how one person bought at an auction one of those "vanity" license plates all because it had the number one on it....the cost? He won it for a mere $14 million...sheesh


• Singapore
5 Nov 08
well, i guess there are these people around. i won't be surprised if the phone were sold within the same day it's launched. if $14 million is 'mere', then $130,00 is nothing. there are days when i wished i'd be as rich. however, there is nothing i have now that i am willing to exchange for the money. so i guess i'll just stick to having fun with my family. cheers



•
3 Nov 08
Hi applefreak, May I ask WHY!!!! would anyone buy a cell phone with dimonds, they got to be mad and rather sickly too rich, if ony they go round looking ar poor people, and I cannot understand Japan for bringing out some thing like this, it sick. Tamara

• Singapore
4 Nov 08
yes tamara, that's the first question that comes to my mind. 18 over carats of diamond on a phone?


i'd be happy to get a ring with a tenth of them diamonds. then again, the market for the rich is always there. look at all those ferraris and porches. the price of one car is enough to feed a family for years.

hopefully they'll consider donating at least a bit of the proceeds to the poor.

• United Arab Emirates
3 Nov 08
My boyfriend's aunt lives in Japan. Everytime she comes home, she always have the latest gadgets that are newly released in Japan. She told us about the phone which has the diamond. And we were really amazed on how these Japanese investors were able to come up with this brilliant yet unique idea.

• Singapore
4 Nov 08
yes i agree that the idea is really brilliant. we've already got diamond-studded bags and shoes. we've also got diamante studded phones. so now we've got phones that's studded with real diamonds. it's really mind boggling how someone can come up with such an idea. i'd be happy just to own a 1-carat diamond from tiffany. a phone that has a total of 18++ carats studded on it? that's like a far flung dream to me.



•
3 Nov 08
People who buy this phone obviously have more money than sense!! lol I certainly wouldn't -waht if you lost it or had an accident with it then it's an expensive phone to replace!!

• Singapore
4 Nov 08


i can't imagine how i'd feel losing such a phone. but then again, maybe i won't feel anything if i can afford this phone. people who buys this kind of phone probably has money to burn. i still can't get over the $130k price tag for the phone. what does one has to do to earn this kind of money?


• United States
3 Nov 08
if anyone pays that for a phone they have more money than sense. i can't believe that anyone would have that much money to spend on a cell phone. of course i can't imagine anyone having that kind of money. lol. wish i did but wouldn't spend it on a cell phone.

• Singapore
3 Nov 08
hi there my friend, nice to see you around. i can't agree with you more about the phone. it's simply beyond my imagination to think that someone will buy a phone that cost more than a car. i don't think i'll ever have that kind of spare cash in my entire life. i might be able to save that much but it'll be for my retirement. to spend it all on a mobile phone is just insane.



• Singapore
20 Apr 09
Crisis? I think the crisis only affects the very rich a little. They used to be filthy rich but now they are only very rich. Humans love extravagance and whether is it good times or bad times, they will still splurge on extravagant stuffs. Personally I am not into brands and extravagance. I also don't like *bling bling* handphones.