olive oil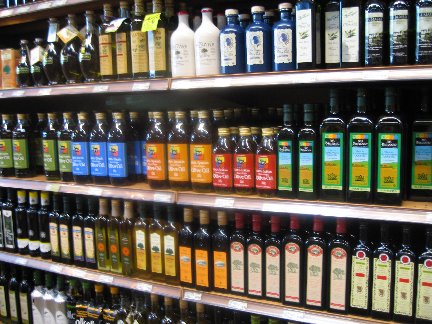 Malaysia
November 3, 2008 3:32am CST
I read about an article on Olive Oil and would like to get some opinion from my fellow lotter. I guess everyone knows a Mediterranean diet is favourable for its heart healthy oil. Different types of olive oil offers different benefits depending on how they are used. Example extra virgin oil are the purest forms as they have the most flavour and highest concentrations of antioxidant. I know olive oil is used widely for cooking and making salad. I read an article once which says olive oil should not be used for frying. Salad dressing is fine but not suitable for frying, as it will be not good to our health. Appreciate if any lotters out there can help enlighten me on this. Is it true that olice oil used for frying is not good for our health?
2 responses

• United States
3 Nov 08
Olice oil is so beneficial for our health. always buy olive oil in dark tinted bottles since the packaging will help protect the oil from oxidation caused by exposure to light. store olive oil way from heat and light. Take only about 10 days worth from the original container and store the rest in the fridge. Oxidation occures when olive oil is exposed to air. When olive oil gets too hot it is turned into free radicales and becomes tosic. Getting olive oil too hot destroys the benefits. It shouldn't get over 200 to 250 degrees. http://whfoods.org/genpage.php?tname=movie&dbid=6 http://whfoods.org/genpage.php?tname=foodspice&dbid=132#purchasequalities

• Malaysia
4 Nov 08
Hey deebomb thanks for the useful informations and tips on olive oil. I really appreciate it. In my country, we dont really use much olive oil for cooking as the price here is a bit on the high side. Looks like we have to store them in a proper place in order to preserve the quality of it. That explains why the article mentioned olive oil is best not to be used for frying .. Cheers and have a pleasant day

• Philippines
3 Nov 08
I don't know much about it. But i have heard that olive oil is good for our health. And it is the preferred oil used by people who are health unconscious. Olive oil by the way is used on the skin by some instead of using expensive moisturizers/cream. :)

• Malaysia
4 Nov 08
Thanks for your response my fellow lotter. I have read about olive oil being used as one of the ingredients in making make-up but never actually heard about using it as a cream by itself. Does it really works and what effect does it have on the face. I mean does it helps makes our face looks more healthy but won't be made our face looks more oily..