What are these annoyance in myLot? Can anybody say?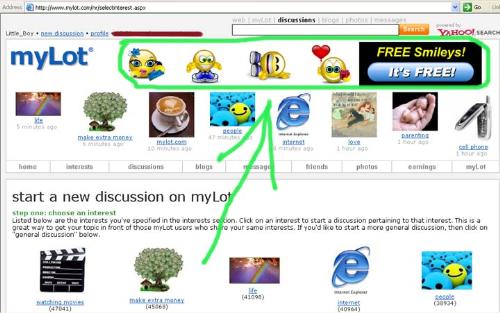 India
November 6, 2008 6:13pm CST
I am not sure what are these disgusting annoyance in myLot web pages! Whenever I open myLot website, they do appear! At first I had thought them as advertisements. But later I could realize my mistakes. They cannot be advertisement. Because these floating nuisances only offer you FREE SMILEYS. They keep blinking CLICK HERE, FREE CURSOR or CLICK HERE, FREE SMILYES etc! myLot cannot be benefited by offering FREE SMILEYS or FREE CURSORS. So what are these? Are they any spyware or malware? Why they are distributing these disgusting so-called FREE STUFF using a aristocratic site like myLot? And why myLot allowing them? Or is this beyond the control of myLot?They are very disturbing! When they appear, they keep swinging to and fro or the so called smilyes keeps jumping (as they are animated). They are also very much irritable for the eyes. I have noticed, when I install Kasprsky Antivirus Software, they cannot show up in myLot! They are filtered! So, can I conclude that they are virus or spyware or malware?I have attached a picture taken last night and have marked up these eliments using Photoshop. Please see the picture and respond saying what they could be.
2 responses


• Quezon City, Philippines
7 Nov 08
Well I guess the only solutions to this is to really ignor them at all. If you have kaspersky blocke them then much better for you there not being bothered by it anymore.