Do you hang up mistletoe and have you kissed under the missle toe?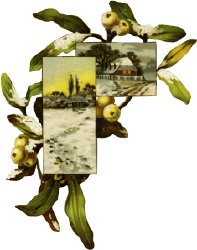 United States
4 responses

• United States
16 Nov 08
I have no idea where the tradition come from to kiss someone who is under the mistletoe. I have some fake mistletoe somewhere packed away. I am not sure if any of us will get in the attic to get all the older Christmas things out of not for this year.

• United States
16 Nov 08

Now tyc, if you go get that mistle toe, you may have some wonderful memories and Maybe its worth climbing into the attic for ..lol You know mean, I am going to get you laughing....

• United States
17 Nov 08

Its a beautiful tradition, dont you think? Really,Its nice to keep them alive ....

• United Kingdom
16 Nov 08
No point in poor Wolfie hanging up any mistletoe my friend because I have no one to kiss underneath it! I don't think I can remember the last time, if ever I have kissed anyone under the mistletoe. So no mistletoe ever comes into my home, it is a strange tradition I agree and I will be interested to hear if anyone knows the true tradition and why we kiss under it?

• United States
17 Nov 08

Things change, and you just might get a really big smooch in the future and you will remember it ....and it could be the most gigantic kiss anyone ever got and you see...thats the nice thing about the future....

• United States
16 Nov 08
We don't normally hang it up, but I have kissed my husband under the mistletoe.

• United States
16 Nov 08

Thats very sweet and what a nice memory! Appreciate your response!

• United States
16 Nov 08
I don't ususally hang mistletoe anymore. My husband and I used to smooch under it when we were first married (anything was a good excuse back then


). I remember my grandparents house and how they hung it in the entry to the kitchen. As a little kid I remember a specific time where my dad caught my mom under it!

You are a fast poster, girlfriend! I'm just trying to keep up with you!

• United States
16 Nov 08

Actualy I am behind and trying to catch up to you lolhehehehheh We are just too funny....its wonderful!

• United States
17 Nov 08

we resemble that lol yes we are and we are very entertaining because we know where its at..lol