Movie Review - IGOR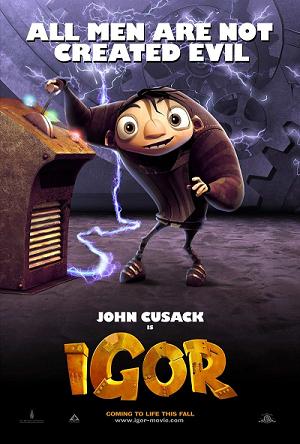 Singapore
December 12, 2008 5:13am CST
Igor, the assistant of a mad scientist, grew up in a country full of mad scientists and evil inventors. Smart and intelligent, Igor aspire to one day be able to win the prize in the Annual Mad Scientist competition. Igor's master died during one of his inventions, which opened up an opportunity for him to try and enter the competition by building a one of a kind, herculean woman android. But during the process of brain washing her, problems occured. The zombie rabbit Scamper and freak brain Brian brings much laughter to the screen with their antics. The most interesting scene is the one where the scientists were competing with each other and broke out in dance and song!

Although the film lived up the the high standards of animation as with all the other animation movie that Disney has produced, this movie lacks the emotional element that the other movies has. Neither does it have the super cute character that tugs at the heart strings of the viewer, thus it would be more difficult to appeal the younger audience. Maybe Disney is trying to appeal to the older crowd with this darker satire of the scientific world.

An intersting watch, especially if you love to watch animation.
1 response

• Singapore
12 Dec 08
It's from disney?? hehe ^_^ BUt somehow i got the impression of it coming from japan instead.. haha For animation movie right now, i only know about BOLT.. HAve u watch it?? lol =D A super cute dog with a cat's character.. haha =D I guess i will rather watch BOLT over IGOR, because it has got a cute character in it.. hehe But anyway, thanks for the review too ^_^