Pampuuurrrred Pet

December 12, 2008 8:28am CST
I dont know what to get my Cat for Christmas this year. It is my first Christmas with a Cat! She seems indifferent to all her toys and much prefers to play with a bit of curling ribbon!! she loves pouncing on things but when i start up the remote control mouse i bought for her she runs away!! Has anyone bought a toy for thier Cat that has been really successful? i would like a puzzle feeder but cant find one anywhere. Any ideas folks?
8 responses


•
12 Dec 08
Thank you and Merry Christmas to you and your cat too!! Millie will be having lots of roast turkey on Christmas day!! perhaps i could buy her some fresh fish too. What is a Jute mouse? :) x

• Singapore
12 Dec 08
wow, yummy turkey! what a lucky cat :) I am away from home and just managed to get special canned cat food from the Japanese corner at the mall. I have just sent the package home and I really hope that my cat and the 2 new cats will love it :) btw, jute mouse is the name of the toy that i bought. It is a mouse shaped toy made up of a tough material called jute fiber (like burlap)... best for bites and scratches :)

•
12 Dec 08
She does get spoiled!! She loves Ham the most though and isnt too fond of curry but she gets to try everything i have for dinner!!

• United States
12 Dec 08
My cat loves playing with a ball. If you like sit on the floor with her, and roll the ball she will pounce all over the floor after the ball and try to roll it back to you. I plan on buying her a new ball for Christmas. She also likes this piece of furniture that she likes to climb on and stretch out on and sharpen her nails. So that would be something a little interesting to get your cat. Maybe a ball.

•
12 Dec 08
Aww that sounds like fun!! I bought Millie some mini tennis balls with feathers on them but she isnt too keen on them. She just looks at me as if to say..."what do you expect me to do with that?!" I bet when i am not there she plays with all of the stuff i have bought her! She probably plays with the play station!! I have seen those jungle gym type things for Cats. That might be a good idea, she likes to be up high. Perhaps i will persevere with the balls. She didnt like me much to begin with and now she loves me so maybe she just needs time!

• United States
12 Dec 08
That is true she may need more time to get to know you. I had my cat since she was 2 months old and now she is 8months, but she was playful from the start. I bet she does play with the toys when you're not around. Maybe put a toy in certain spot whenever you leave and then when you come back I bet it will be in a different spot. My cat she loves to hide all of her toys, why? I have no idea. I'm always finding her toys in different spots then they were before. My cat loves being up high too instead of being in lower places. So the little jungle gym thing might be good for her. Good luck.


•
12 Dec 08
haha! Sounds like you have some mischeavous cats at home! Millie much prefers to ruin expensive things rather than the scratching post i bought for her!! Merry Christmas to you too.


• United States
13 Dec 08
When we got our first two cats, we bought them toys. They weren't at all interested. We have found that what our cats like are boxes large enough for them to get in.

• United States
13 Dec 08
i just put together my cat's stocking, and he was watching me. he saw the cat treats and got excited, waiting for me to give him some. i just put bunch of cat treats in it as well as few cat toys that my mother bought for my cat and i decided to save it for his stocking to fill up. but i think pets are more into the food than toys. my cat's favorite toys are scratch boards, scratch posts, cat trees, cat bed with blankie, paper bags, me, my furniture, etc. they also like paper, strings, ribbons, hair, and just simple stuff mostly. i dont think he needs new scratchboards, even though he has had his for over a year now. it looks to be ok, not too worn out. i will buy him new ones when he starts ignoring it, i guess.

• United States
13 Dec 08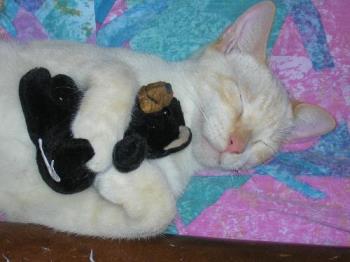 Actually, I didn't buy this gift for one of my cats, Khuay, I got it from the maintenance staff at the college I go to. Khuay loves to shred paper...any kind of paper including boxes. I got him two rolls of paper towels!! LOL. The house will look like a major snow fall happened but he will be beside himself with joy over the gift! The other three are very easy to please for Christmas. Murphy (the grand dame' of the pack, she's 14 and a half), gets her own can of whipped cream. Dinglebeary gets a cat nip plant. He loves fresh "nip". Then Willy, Khuay's brother, gets a cat nip mouse as he beats the daylights out of then and then tucks them in bed with me!!!


• Malta
12 Dec 08
I would buy her a toy a squeak toy she can play with it.