Smarter then I thought.

United States
December 12, 2008 12:15pm CST
My 17 month old son has been signing "hurt, hurt, hurt" constantly for the last few days, unfortunately I dismissed it as a variation of his favorite sign, "more." We were both getting frustrated when I finally said "That is the sign for hurt, do you hurt?" and the smarty pants signed back "yes." Whoa!!! Did he answer my question? So I asked him "where do you hurt?" and immediately he pointed to his right ear. A trip to the doctor reveals that his right ear tube is clogged. Can you believe that I had a conversation with my son? He repeated this conversation with the doctor. I'm so proud of Smarty Pants Mcgee, he must take after his father. How dumb of me to have dismissed him... of course he knew what he was singing... he is MENSA material. Have you ever dismissed your kids only to realize that they are smarter then you think?
10 responses

• Holiday, Florida
13 Dec 08
way to many times. my oldest son has always been near genius. almost any topic you pick he is knowledgable about. when he was in 5th grade they told me he was bored and needed to be moved to the 7th grade

i didnt think it would be wise tho as other kids would not bond with him.

• United States
13 Dec 08
Hey glords! Ahhh! What a sweet little boy! He knew what he was saying! He is a smarty pants! Good for him! I used to know how to sign too. I knew the alphabet and some of the other signs that were used often. My ex-boyfriend's parents couldn't hear and I wanted to try to speak to them a litte so I tryed to learn as much as I could. It was very difficult but it made me feel so good when I was able to get out my point and it was understood! Your son is a brave little boy! I hope his ear is finally feeing better now! Earaches are the worst! Do you have a picture of him? I would love to see one! Give him a hug for me!

• United States
13 Dec 08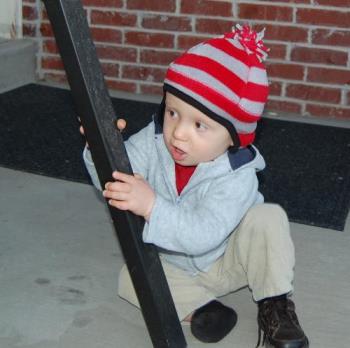 I think that's really neat of you to learn a new language to communicate with your boyfriends parents. I know married people who aren't that willing to make such a huge effort and time investment. Here is the most recent picture I have of my son, not the best as he is wearing a hat and jacket, but none the less it will give you an idea of what my cutie pie looks like.

• United States
17 Dec 08
I know I have! A few weeks ago my daughter (23 months old) lost her ducky. Ducky is a little pink stuffed animal that my daughter has slept with since she got it. How she lost ducky was beyond me since ducky isn't allowed out of bed. Anyway we were looking for ducky and she kept going in the kitchen and saying ducky. The next day first thing when she woke up we went looking for ducky again. And again she was in the kitchen saying ducky ducky. Finally I asked her where is ducky. She pointed to the freezer. I said duckys not in there... guess where ducky was! In the freezer! LOL My daughter is in FL visiting with my parents right now. I was talking to her on the phone and said are you playing outside. She said no! I said your outside? she said "inside" (my mom had just said they were outside) My daughter got mad and said "inside moooom" and gave the phone to my mom. I said where are you? My mom says oh we came inside when you called. LOL Kids are a lot smarter then we think! It is almost scary how much they understand at such a young age! They really are like sponges!

• United States
15 Dec 08
I don't have kids so I can't exactly answer that question, but I remember this one time that one of my sisters had started to holler that some strange person was at the door knocking on the door. I just ignored her, because I knew my parents would be home at any moment. When my parents got home they had asked if a white german guy had come out. Apparently, the guy had came all the way over from the Germany to speak to my family, and like an idiot I made the guy waaste money, and my parents having to spend money to get him back over here again.

• United States
16 Dec 08
I live in the United States, even though I would love to live in Germany...I don't know why but everyone always gets me confused as a German boy.

• United States
24 Dec 08
I am always amazed at just how smart children are. I think we sometimes underestimate their abilities. I do not have my own children, but I have learned from experience to not dismiss something a child says. The exception to this rule is if you know they are making something up. Children have such creative minds lol. I'm glad to hear that you have the problem figured out! I am also impressed that you taught your son to sign. I think this is a wonderful idea for pre-linguistic children and hope to practice it with my children when I have them.


• United States
24 Dec 08
Thanks, I can't take all the credit for teaching him sign. The wonderful videos called Signing Time did all the work. They taught both of us the signs with really cute songs. My son loves the "Please and "Thank You" song the most. The song goes " I say please, please, please, when I want it. I share, share, share, when we're playing. Your turn is your turn and my turn is mine, and we use our thank you's all of the time." I constantly catch him signing "please, please, please, share, share, share, your turn, my turn, thank you, thank you." I interpret this to mean, sing me the song mom, but maybe he means something else.

• United States
16 Dec 08
MENSA, here we come! Kids do the darndest things but you actually learn from them about life and all. Sometimes they teach us that life is as simple as it gets and that simple things mean much more than what they seem to be.

• United States
14 Dec 08
My almost 2 year old daughter is one of those kids that is almost too smart for her own good. I have to remember sometimes that she is smarter than I realize. I am glad your son was able to tell you that he had an earache. I am sure he is feeling better by now.

• United States
13 Dec 08
That is so awesome!! What a good little boy! I hope he starts feeling better soon. I wished I would have known about signing when my children were babies I am fasinated with it. My oldest is 20 and youngest 8 so a bit too big for that...LOL But maybe when the grands come someday i can teach them. Many time have my children proved to me they are smarter than I think...LOL

• United States
13 Dec 08
I love it, but it may have slowed down his actual speech development. In the long run, they say it is good for their development and IQ. When the grands do come along you should look into signing time videos. My son loves them!!! Despite my efforts to teach him the visuals and songs on Signing Time is what really taught him the signs.


• United States
17 Dec 08
That's gret that you had the conversation with him. I can't think of any time that this has happened to me but that doesn't mean it hasn't happened.