Pundakit Zambles, Philippines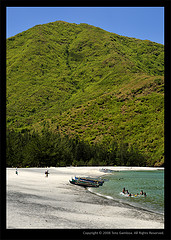 Philippines
January 7, 2009 5:47am CST
Pundakit is a small town which is used to be popular only to backpackers. Pundakit is a home to one of the most beautiful coves in Anawingan cove, Philippines. Tourist should not miss this small paradise. It is one place in Luzon that can compete with those that can be found in Palawan.
2 responses

• Quezon City, Philippines
9 Jan 09
I am amazed when in this small islands that we have there are still some places that are discovered to be a good place to visit and not that commercialized yet still is a good place to visit. I know there will come a day that this place will be developed into something that will make money.

• Philippines
7 Jan 09
Thank you for sharing another good place to go in Zambales. I love Zambales. When I first go that place, I really fell in love. I love its beaches, I love its mountains, greenery and it's scent, I love how Zambales makes me feel so relax and so close to nature. I have been to Iba and Uacon where Potipot Island was famous for it's white sand and clear waters. I am hearing a lot about Pundaquit, wherein you can rent boats to bring you to Capones and Cameras Islands. I am planning to visit those islands, this year. Is it true that the waters are a bit rough when going to those islands? I remembered that those boats that you can rent in Zambales are small, so it is a little scary to travel on rough waters with small boats.