I've got paid!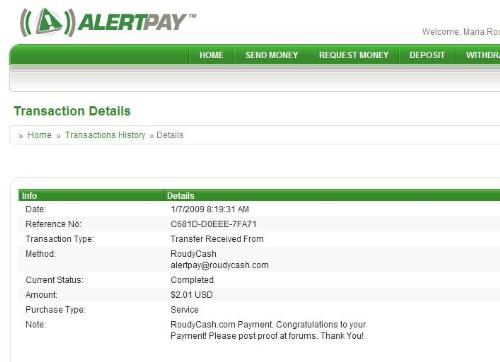 Philippines
January 7, 2009 9:34am CST
I was responding to one of our fellow lotters about his discussion that he has been paid by roudycash after 10 hours. I said in my response that I am hoping to get mine too. When I checked my email, there is a message that I received payment from roudycash. I think I got it several hours ago. I am so happy!


This is my first payout on roudycash and it is very fast.

I hope that all of my other ptc sites will be like roudycash.
9 responses


• Philippines
8 Jan 09
Hi Ms. Yuna! may i ask why we have to wait for the 3rd payment? I am a standard member there and i am still working on the first pay-out. I am considering of buying refs to get paid faster. What do you think? Thanks for taking the time to reply on my inquiry.

• United States
8 Jan 09
i have enough to cash out but im not sure what to do as i have no use for alertpay i prefer paypal so i have just been lettign it build up im tryign to find someone who is willing to give me paypal funds for my alertpay funds

• United States
8 Jan 09
i mean i could cash out but it will just sit in my alertpay acct where i have no use for it really.



• India
8 Jan 09
That great news . So Its very pleasing to know that there are some sites which pays the user for their effort. but the problem is how long they will stay trust-able . One fine morning you will hear a news that the site has been disappeared.


• Ipswich, England
7 Jan 09
Hi there maroseqf and congrats for your first payment over there. Now i know they paid fast but so did 247bux in the beginning - it's time to see if the next payments will get to you as fast as this one, than we will know for sure if this is a good site, or just and average one.

• Philippines
7 Jan 09
Congrats on your work and for finding roudycash.