Do you have plans this weekend?

United States
January 14, 2009 12:45am CST
What are you going to do this weekend? Are you going to go out of town? Do you have company coming over? Are you going to vegetate or do house work? Well this weekend I am going to have a baby shower at my house for my son's girlfriend. She is due February 21 with our first grandson. My daughter is hosting the shower and it will be at our home because we have more room and we live in a centralized area. I am so excited to have the shower here and the theme is: A TEA PARTY. My daughter is planning on serving 4 or 5 different types of teas and we are going to use some of my tea pots. She is going to serve tea sandwiches, spinach dip, deviled eggs, cup cakes and more food I am sure, we are going to play party games and open gifts. We have sent out 22 invitations, I sure hope we have a good turn out. One of my sisters are flying in from Washington. My sister who is coming has never met the mom so she is looking forward to that. What kind of baby shower themes have you gone to? What games do you like to play?

11 responses

• United States
22 Jan 09
Oh, I am sure you had a blast!!!! I like the game where you cut a piece of string for how big you think the mommy's tummy is. I am horrible at this game, but it's lots of fun! I really don't like the game where you get a clothes pin and if you say the word "baby" someone can take it from you. I usually lose that one too... But, I like the cake!!! I always eat lots of cake!! hey, I can see your smilin' still!!!

• United States
22 Jan 09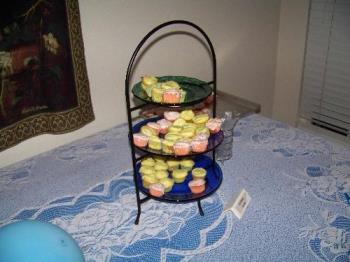 We had loads of little cupcakes I will attache a photo. My daughter made tiny cupcakes of strawberry and lemon. The lemon ones are the best in my book. I ate and ate and ate.

• United States
22 Jan 09
Uh oh! Do I need to send Rhonda over there for a couple days? Right now, you can have her, she's killin' me!!!

• United States
22 Jan 09
yes!!!!!!!!!!!!!!!!!!!!!!! I need help to take this weight off


• Philippines
16 Jan 09
I am planning to do a lot of cleaning this weekend... mainly because my husband will be arriving from abroad sunday night... i started yesterday... but there is still a lot of things to do... just hope i will be able to finish before he arrives... The tea party concept of the baby shower sounds very nice... and very unique... i hope you won't mind if i borrow that idea next time we have a small party...

• United States
17 Jan 09
asertdd go right ahead and use that idea. I will be flattered. Have a great time with your visit with your hubby. How long will he be home before he has to go back abroad?

• United States
21 Jan 09
Oh no does that mean he is jobless? I hope he can find another job to go to soon.


• Malaysia
31 Jan 09
Hi teapotmom, my husband and I will go on vacation this coming Monday morning. We will visit one of the hot tourist sites in my country and spend 5 days there. So we would pack our luggage and get ready of everything before the vacation. We will visit my younger brother tonight. We are having our annual gathering at his house to celebrate our grand festive day, the Chinese New Year of Ox. We know my brother would prepare lots of delicious festive foods and canned drinks for us, each family still would bring some foods and drinks to make the foods served there more versatile and attractive. Happy

posting and good

luck.

• United States
2 Feb 09
Have a grand time on your vacation and come home safely. I hope you have a great time at your brothers also. I had a pot luck luncheon this weekend for 6 ladies and had a good time. We ate our fill.

• Malaysia
15 Feb 09
Thanks for your kind and warm blessing given to us earlier teapot. Yeah, we really had had a great time both in my brother's house and during our vacation at the mountain tourist site as well. Well, it's so nice to entertain our guests at our house to have luck luncheon. I believe you are very good in preparing meal. We prefer having food together with our friends at home is we have our own privacy, so that we could enjoy the harmonious and cheerful atmosphere while having meal as well as the yummy food. Anyway it's more economic too.

• United States
2 Mar 09
I do love to have people over to the house. I think I am more relaxed and I do not worry about the money I spend because I do not furnish the whole meal. I am glad you have such a good time. God bless.

• Bangladesh
16 Jan 09
Wow an exciting party! a tea party and using teapots! Really a nice discussion you have presented us dear "teapotmommommerced". I have no idea about the games what should be played at such party. Actually I am not familiared with such culture. Sorry. Wish to have a nice party.

• United States
17 Jan 09
thank you. A baby shower is a party that is given to a mother to be before the baby is born, the guests "shower" the mother/baby with gifts. We play games and win small prizes. It is a fine time for all to share in the happy time with the parents to be.

• Bangladesh
24 Jan 09
Wow a great party! I think a welcome ceremony to the baby before born. I understood that it is very common affiar with you "baby shower". Unfortunately we are not familiar with such party or "baby shower". Normally our culture any arrangement about babies after born.

• United States
25 Jan 09
I am learning that a lot of countries will not get the babies room ready until after the baby is born some ways that is good. We American's get the room decorated and all that stuff a head of time.


• United States
14 Jan 09
Happy birthday Sam, I hope you have a good time and please be safe.

• India
14 Jan 09
actually,i never had a baby shower party.yours sound too cute and the food is also yummy.wish i lived somewhere near your place!!i want to know what these deviled eggs are!!i donot have any specific plans for the weekend,just routine,will be chilling out with my hubby,kids and ofcourse mylot!!

• United States
14 Jan 09
Deviled eggs are boiled eggs peeled and cut in half the long way. Then you take the yolk out and add mayo and other spices to it and then fill the mixture back in the whole where you took the yolk out of . Yummy

• United States
17 Jan 09
they are yummy. You can get recipes off the internet. I just take the yolk out and mix with mayo, mustard, dill and then re stuff the hole where the yolk came out. I then add a half of a Spanish green olive on top. YUM

• United States
29 Jan 09


I have some cleaning to do and some bill paying. I am then going to rest because I have increased my online work and need to break somewhat on the weekends. I do not have any big plans. and sometimes, I like things to be very simple.

• United States
31 Jan 09
I am having a pot luck this weekend 2/1/08 and will have 8 ladies here if they all come. I wanted to do it before Christmas but life got in the way so tomorrow is it. We will not be having guests now until March. In February our grand son will be born so we will be going out of town and I will be with the kids far a week or two.

• United States
22 Jan 09
I love baby showers! I've never had a themed baby shower of my own, but I've helped others plan them. One was Noah's Ark and the other was Disney Babies. When we set up for the party, everything was decorated according to these themes because that's how we knew the baby's nursery would be decorated. Each turned out pretty cute. Neither of them had any games, though, for some weird reason.

• United States
22 Jan 09
When we first started planning this the mom said she did not like the games then she changed her mind. we did have fun. I helped with the games so I did not play. We had a tie so we ended up playing only two games and not three because we did not have enough gifts. Did you know now at a shower they expect party favors when people leave? I had never head of such a thing. My daughter did make up bags of goodies, we do have four left over I do not even know what is in them

• United States
22 Jan 09
This weekend I'll be spending entire days at a music festival in Greenfield, a town near where I live. This group of organizers and musicians that I'm on the Board of is having their Winter gathering. I'm excited. It'll be so much fun. Even if I did have to fight for access, I don't get it to work out exactly the way I wanted. But I'm still going and planning to fight the good fight.

• United States
22 Jan 09
I sure hope you have a great time. I have not spent much time at music festivals. My son use to play in a band and we use to watch him play. He was good. He is one of those types that can pretty much pick up any interment and teach him self how to play. He is looking forward to playing music for his baby.

• United States
22 Jan 09
My ex's family gave me a baby shower with my daughter. It was just a simply baby shower with cake and a few games and presents. Some co-workers of mine gave me a baby shower with my son. It was at the bowling alley and yes, at 8 month pregnant, I was bowling! It wasn't pretty!

It was a lot of fun though and I got to take my daughter who was 5 at the time and she had a blast! Congratulations on your first grandson! I know you will be one happy Grandma soon!

• United States
22 Jan 09
Yes I am so happy to be come a new Granny. I am so looking forward to meeting my little one. The mom and dad are going to do well I think. I have offered to help as much as I can. They live four hours a way and it is only 39 dollars by train to get there. I can do it in a day and be there for them to work at night if they need a babysitter at night one day a week. They have changed their schedules so they only have to pay a sitter one day a week. If Granny goes up one day and then comes home the next day I can be there for the night and then they will only have to have a stranger with the baby every once in a while. Or I can do it when the baby is ill we all know who cold and flu season is.

• United States
14 Jan 09
Gosh, I've only been to 3-5 baby showers, and at least 2-3 of them were at work. I can't remember themes, since the last one not at work was at LEAST 10 years ago. The only shower I ever helped host was a bridal shower and that was more like 30 years ago.