What do you think will happen as Pres. Obama takes the presidency of USA??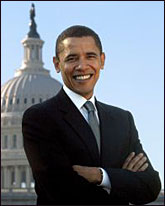 Philippines
January 21, 2009 1:15am CST
Pres. Obama is the first black president of US and he is also the first african-american ever. What do you think the future holds for Obama and US?? As he believes in change and as of now change have had happened.
3 responses

•
22 Jan 09
Hi pitstryke,I am very happy that Barack Obama is now the US president.I think he has very high standards to live up to,And i would even go as far as to say he will leave some people disappointed when his term is over,The reason being that people are so optimistic about the future he simply won't be able to do enough,He is only human,The world will still have many problems when he has done his term,Or terms.On the other hand,I do really believe Obama want's to make a differance,And unlike Bush his priority won't be to make money,His reasoning behind things is purely to make the regular people's lives better,I mean look at the world economy that he has walked straight into,It's a tough job but i think he will do his very best,At all times,Good luck President Obama.

• United States
22 Jan 09
While I'm excited about the things President Obama has planned, and the things he's already set in motion, I think we must be clear -- he is of mixed race and culture. I'm glad that a man whose skin is darker than mine is President, but I'm sorry his white mother, the white grandparents who raised him, and the Asian cultures (Hawaii and Indonesia) in which he was raised are not being acknowledged. Barack Obama is the President of All!

• United States
21 Jan 09
This is an amazing time. With so many people more electrified from the election, regardless of what party line you are in, you have got to be proud to be an American today. I don't know how his term will prove future wise yet realize nothing will ever be the same which is a great thing.