Did you watch Barack Obama's speech?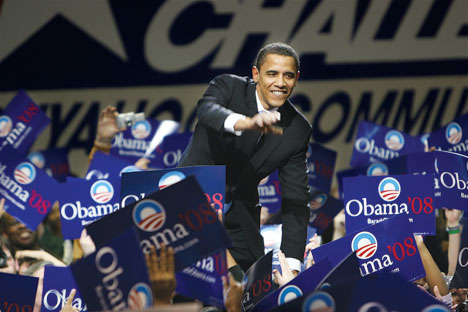 Latvia
January 21, 2009 9:23am CST
Last time as we all know Barack Obama started his presidency - did you watch it? Where you watching it LIVE or on TV? What are your impressions? Did you hear what were you wishing to hear from him?
3 responses

• United States
23 Jan 09
The best part of all is the content of his speech. The speech embraced peace and reject use of terror and violence for advancing goal and aim of a nation. He claims USA embrace all faiths and all color, equal right and protection for all under the constitution is reassuring for minority in the country. I am confident he will do whatever he can with his presidential power to defend the rights and safety of all Americans against terrorism in any form. He did sum them up quite well in my opinion.

• United States
21 Jan 09
I watched it on tv. It was a good speech. But it was big on hype and small on details. I was hoping to finally find out how he plans to actually do everything he promised.

• Lancaster, New Hampshire
21 Jan 09
I kinda half listened to it when he made it. But I later went back and listened to it a few time over and read the text, in fact, did a post on it a few topics down. The words that really stood out to me were the following 2 exeerpts: "We will not apologize for our way of life, nor will we waver in its defense" " To those leaders around the globe who seek to sow conflict, or blame their society's ills on the West — know that your people will judge you on what you can build, not what you destroy" This to me spoke of national pride and patriotism. I was glad to hear it. It was refreshing talk from a party that seemed to be slowly drifting away from those ideals.