Kept kittens too long and darn it I'm going to miss the little guy...

Shingle Springs, California
January 28, 2009 1:29pm CST
The last of our three foster kittens goes in for the big appointment tomorrow. After that, he can be put up for adoption. Now I already miss Nancy who got adopted over a month ago. And I'm keeping Jason. But little Diego is really sweet. I had a dream the other night that he found a home and that I cried. Well Saturday he's going to the adoption center and he's so sweet, there's a good chance he'll find a home. I'll really miss the little guy. Guess we kept him too long and got attached. Hard to do, guys, hard to do! Did you ever take a pet in knowing that you weren't going to be able to keep it?
8 responses


• Shingle Springs, California
29 Jan 09

• Shingle Springs, California
29 Jan 09
Well good for you for doing that and good luck finding them homes!

• United States
29 Jan 09
When I was 9 my mother brought in 4 kittens, all siblings. She knew that at the time I wanted to have a career in the veterinary field, so she would supervise over me care for them. (I was really mature for my age). I would clean them, feed, and make sure they were healthy. One of the kittens were sick and I actually knew how to make it better just from reading the ton of books on animals I have. a month passed by, and my mum said that I had to give the kittens to a lady that wanted them. I had a dog and a grown cat then, so I knew that eventually I would have to part with the kittens. I cried so much, but at the same time I had to not be selfish and realize that the kittens would have a better home. Yeah, I thought my home was better lol, but the lady would be able to give 110% attention to the kittens. So I finally gave them up, still crying. Baut at least I knew that they would be happy and safe :)

• Shingle Springs, California
29 Jan 09
Sometimes doing the right thing is hard!

• Philippines
29 Jan 09
I truly understand how you feel!!! We also have a pet cat, named "MUNING", five years ago! Muning is a stray kitten, I think one or two months old when we find her crying in our backyard! At first we shoo her away because we don't want cats in our house!! But every other day, after shooing her, we still can find her crying in one corner in our yard! We beat Muning several times just to get rid of her. But, Muning still keeps on coming back! So, we finally give up! We let her enter our house and be considered as a member of our family together with our pet dogs. To make it short, Muning has been with us for almost ten years! Honestly, it never comes into my mind that a can can stay with us for those long years! We have seen Muning's various physical development and behavioral changes in her whole life span! Muning is the only cat we ever have and we ever take good care of.... She is not a high-breed, expensive kind of cat... She is only an ordinary house cat but from the time we accept her in our house, we treat her not as an ordinary pet but as a member of our family, and we never regret it! However, everything has its own time to leave this world... Muning finally die of old age!! During her last months, when she is very weak, we have been trying so hard to revive her strength! But we can feel in her eyes that she already wants to rest forever... Her soft "meowws" sounds as if she wants to tell us she is too tired and old to keep on living.... So, though we still want her with us, we finally let her go.... It is really hard to let go of something/somebody that has been with you even for a short while but has been very close to your heart! The truth is, we oftentimes wish everything/everybody we love could stay with us until our last breath... However, we have to remember that wishes cannot always be, as we want it to be! Nothing in this world is permanent... Everything has its own time to go or pass away... Sometimes, we really have to set something/somebody free especially if letting it/him go will be for a greater and more humane pupose. Not everybody can wholeheartedly do it! So don't be too sad for sending your kittens away to a someone else! You have done the best thing for your pets!

• Shingle Springs, California
29 Jan 09
He'll probably get over it a lot faster than I will! :-)


• Shingle Springs, California
29 Jan 09
Yep, will be best for him... :-(

• United States
29 Jan 09
It is hard to give them up. Last summer my dad found a tiny kitten under his truck. So guess who got it - me, the crazy cat lady. LOL I adored that little black ball of fluff. But I knew I couldn't keep him. So after a few weeks when he was old enough to go to a new home, I checked around and found one of my mom's friends who had recently lost her husband - and who wanted a cat for a companion. Now while I miss that little guy, I know he is adored by his new mommy. And is completely spoiled I'm told.

• Shingle Springs, California
29 Jan 09
Good, cats should be spoiled! :-)


• Shingle Springs, California
28 Jan 09
and especially for the kids... They were really sad when Nancy went and I think my son especially is going to take this pretty hard.

• Canada
28 Jan 09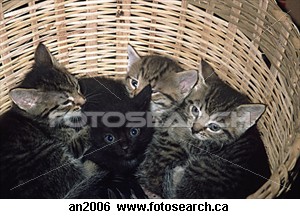 Hi Dawn, I admire you tremendously for being able to take in an animal love it and then send it back to be adopted. I could never do this personally, but I had been on the receiving end of someone fostering my yellow labrador Zena. Zena is a fully trained Special Skills Dog, trained to bark for help, call for help, pick of dropped items, and open and close doors, among many other tips and tricks. As she is from a registered dog guides school, I have continued to be involved spend a lot of time with our Foster families, who are raising our puppies, and giving them their basic obedience training before they mature enough to go back to the school for their formal dog guide training. I have no idea how they do it, they love and cherish the puppy, from about eight weeks old until they are around 12 to 14 months old and can start their skills training. Zena's Foster mom has not seen her since our graduation. We did keep in touch via e-mail for a little bit, and then I think they went away. Zena was her ninth dog that she had fostered and brought through puppy hood, I think of all of the puddles of Pee, and chewed up slippers that she must endured so that I could have a well mannered and well behaved dog that I could take everywhere with me. So once again, my hat goes off to you. That is one of the most difficult and yet most rewarding volunteer jobs there is, I think, and for the dog or the cat, they seem to have an unending supply of love and their heart seems to be able to recover. I am sure your little guy will go on to be adopted by a very loving person who wants him and will enjoy him very much. Happy Mylotting

• Shingle Springs, California
28 Jan 09
I'm sure he'll have a very loving home. And if not, I'll send Rambo after them...

•
28 Jan 09
Hello dawny No I have never taken in a pet knowing that I would have to be parted from it for that very reason. I simply can't do it, what a wuss I am eh? It's like I never gave my kids pacifiers because I knew that one day I would have to take them away from them so it was easier not to give them pacifiers in the first place and I am so glad I did that!! I do feel for you though!!


• Shingle Springs, California
28 Jan 09
After the battle with the oldest over the pacifier, I'm glad the two little ones never took to them! Yeah it's hard but it's for a good cause (repeat 100 times)...