How old is your car?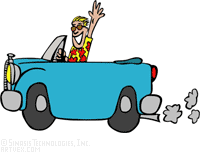 Australia
February 3, 2009 1:17am CST
I live in Australia and according to a survey our island state of Tasmania has the oldest cars in the country, which is interesting. I know someone who is not from Tasmania but she has a 1929 old Ford and it still drives quite well. Do you know anyone who drives an old vehicle like that? How old is your car?
6 responses

• India
3 Feb 09
Well, I too have seen people driving old cars once or twice but do not know any such person personally. We do have Vintage Car rallies every year at different parts of my country (India) where people with old cars take part in to exhibit their possession. My current car is 2003 Maruti 800. I am upgrading with a new car Hyundai i10 now.

• Australia
3 Feb 09
I like Hyundai, they're great vehicles. I drive one and it's the best I have ever owned. It's fascinating to see vintage cars, to think they were brand new once! Thanks for responding!

• India
3 Feb 09
Yes, Hyundai is great! Its interiors are fascinating and the comfort level is too good. Nice profile picture! You know about Buddha??

• Kenya
3 Feb 09
My car is a 2000 Nissan Sunny B15. I got it last year, but maintaining it with inflation in Kenya (where I'm from) at 21% is difficult. I need to replace my front shock absorbers and tyrods. My front indicator lights were stolen about 6 months ago and I haven't replaced them yet. They don't cost much, but now I'm about prioritising: food or indicator lights? My child's school fees or indicator lights?...


• Anantapur, India
22 Apr 09
My car is most old one and i bought it before 5 years and now i am not looking for any kind of car so it is good to adjust with old car it self. which car do you prefer to buy next time?

• Australia
22 Apr 09
My car is a Hyundai I think I'll get another one next time because I really like it! Thanks for responding

• Anantapur, India
22 Apr 09
I think you can go for latest cars now because they are having latest features so why don't you try it once? how cars have you drive in your life?

• United States
4 Feb 09
I have a 1998 Chevy Blazer 4-door, but I have a friend that have a 1965 Mustang...

• Australia
4 Feb 09
1965 Mustang, wouldn't mind one of them! Chevy Blazer are roomy 4 wheel drive vehicles aren't they? Nice... Thanks for responding!

• United States
4 Feb 09
I wouldn't mind having a mustang myself, but I would actually prefer a Pontiac GTO... My Blazer is actually not a 4-Wheel Drive, but it is available as an option. I bought mine from a used car lot about a year ago. They do have a pretty good amount of room in them. I am close to 6' tall, and it has plenty of leg and head room in it for me. I also like the cargo area in the back. I can put my tools in there and not have to worry about them getting wet when it rains, and it also offers a place I can keep the tools locked up. The windows on mine are tinted really good, so as a general rule, people who are just passing by the vehicle in a parking lot or whatever cannot really see what I have in the back of it. It also has a pull-out cover that I can extend over the cargo area to cover the stuff up completely as long as the stuff doesn't stick up too high. It has a VORTEC V-6, and an automatic transmission. I have to admit I was a little skeptical when I first bought it. I had a 1999 Chevy S-10 pickup that had a diamond tread toolbox on it. I bought it new in 1999, and it had been nothing but dependable since the day I got it. I had to put a clutch in it a couple of years ago, and I had to have the air conditioning system replaced, but other than that, I had no trouble with it at all other than just routine maintenance. It was, by far, the best truck I have had since I started driving in 1994. A little over a year ago, though, I put a little more strain on it than it could handle. As it turned out, I was going to have to put some money into it to fix the damage I did to it, and it also needed new brakes. It was also going to have to have new tires if I had kept it much longer. When I started to think about it, these issues combined with the fact that I needed something with a little more seating capacity (I have a wife, a teenage daughter, and three chihuahuas that love to ride), led me to the conclusion that it was time to get something else. I found good deal on the Blazer, so I made the switch from pick-up truck to SUV. The Blazer offered the seating I needed, and I liked the added towing capacity the V-6 provided over the 4-cylinder that was in the S-10 I had, so I bought it. I do miss having the cargo area for some larger loads that the pick-up provided, as it is a little annoying to have to pull my utility trailer every time I had to haul something, but overall, I am well-pleased with the Blazer, and I would definitely recommend one to anyone who needs a simple vehicle as long as they aren't looking for really high towing capacities.


• Australia
3 Feb 09
My car is older, it's 11 years old! It's still going strong though. Thanks a lot for the response!

• Philippines
3 Feb 09
I have a three-year old car which is just a baby. I would not want to drive a really old car. The gas mileage would not be good, I guess. Cheers!!

• Australia
3 Feb 09
I wish my car was only three years old! You're lucky! I would love a newer car one day! Thanks for the response.

• United States
3 Feb 09
Neither of my vehicles are
that
old, but they certainly aren't new either. My husband's truck is a 1991 pickup and my car is a 2000 sedan. Though wouldn't you know the truck is still in great running shape while the car has been sitting for almost a year due to it needing work. That's what I get for buying an American made vehicle!

LOL

• Australia
3 Feb 09
They don't make them like they used to! My first car was a 1975 Honda Civic. I bought it second hand in 1979 and had it for almost 20 years! Thanks for responding!