Let's share our sweetest moments

Pakistan
November 9, 2006 12:14pm CST
mine is the one when i first saw my beloved one, i was standing at airport to receive an expected guest, and the moment that guest showed up, i was completely in first sight in love with her, although i took a hell long time to express my feelings, but trust you me, my first sight love always remained over my nerves so far. spare sometime to recall yours and write them down
5 responses

• United States
9 Nov 06
I would have to say I have 4 sweetest moments, each equally special, but different, too. The moment I first laid eyes on each of my 4 children were my sweetest moments.

• United States
9 Nov 06

Sweetest moments...two to name a few,when I saw my son for the first time and second was when I saw my daughter for the first time. Nothing is more powerful than that moment when your child is born and they are placed on your chest right over your heart.

• United States
25 Mar 07
mine was when, i hadn't seen my ex for 8 mos. and i missed him terribly, after finding out he had been home, (he moved away) My friend hooked us up and we spent the night at the beach together. we've been together ever since!! obviously there's more to the story, but i'll be here all day talking about it! it's one of my best memories.

• United States
25 Mar 07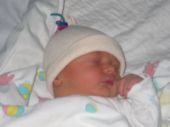 Mine was midwifing my own granddaughter in my house. I've done midwifing all my life, but its different when its your own kin. It was an overwhelming sensation holding her once she came out and realizing it was part of my circle of life. I'll never experience the happiness and love my heart felt again!

• Germany
9 Nov 06
my sweetest moment is when i saw my boyfriend for the first time at the train station ( i pick him up )