cant get speakers to work

United States
7 responses

• India
27 Jul 08
Check if your audio drivers are installed in device manager... I they are already installed uninstall and install the drivers again.. And if they are not installed..

install you audio hardware from the motherboard cd... Reinstalling the drivers will mostly solve your problem...


• India
28 Jul 08
ok so nut head how are you let me tell you what is the problem with your pc there is nothing big problem but your audio hardware is missing from the system which is usually called sound driver


your system can easily work all you have to do is bowse through your system cds that you got with your pc there will be one cd having chipset drivers and audio drivers then install a audio driver like realtek HD AUDIO DRIVER AND YOUR PCS THROAT SOUND WILL BE BACK ENJOY



• Canada
15 Jul 08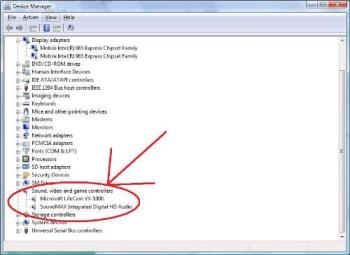 You may not have a sound card installed on your computer. Sometimes the builtin speakers on the computer is not enough to play sounds or audio of video players. Ensure that you have a sound card installed. If you do, check if the wirings to the speakers are connected properly to the right slots on the computer. If it is connected properly, check if you have installed the correct drivers for the sound card. You can also confirm if the sound/audio card is installed properly with the correct driver by checking the device manager as shown in the figure I have attached. Hope this helps


• Malaysia
15 Jul 08
maybe the problem came from your audio software, try reinstall the motherboard/sound card sound again. if it doesn't work, your audio hardware has corrupt


• United States
9 Nov 06
What kind of system do you have? Is it Win95, 98, me, 2000, or xp?