Which is younger -- the Earth or the Moon?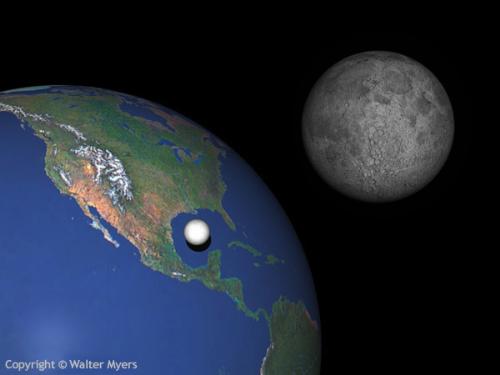 India
4 responses

• United States
15 Feb 09
I understand the current favorite hypothesis (but many are still trying to prove it) was that the Milky Way Galaxy was a cloud of dust where the sun and planets formed. Sometime when the earth was still in a molten state there was an impact, and would have created a ring around the earth. The material in the ring gathered together eventually into the moon. If the hypothesis is correct, the earth existed first, albeit in a molten state, before the moon; but really, since it came from the earth, wouldn't that make them the same age?

• India
15 Feb 09
ya if that is the case then they might be of the same age...thx for your response..

• Italy
15 Feb 09
mmm... yes... and all the matter is from big bang together... so i could say earth and sun have the same age too... oh... wait... milky way and moon too... and if we believe in einstein (not necessarily comprehending him) energy and matter are the same thing... and energy cannot be created but only transformed... so my personal 75 Kg have the same age of milky way too... i don't like to think myself that old thou... i think the question gain sense only if we consider the age of recent(astronomically speaking) form of earth and moon... else it's senseless

•
15 Feb 09
The earth is younger than the moon__it's said the moon was a part of the earth long long ago and for some reason a part of the earth was splashed from the earth __maybe because the hit from a Asteroids,

• India
15 Feb 09
According to you if Moon is a part of the Earth then the Earth will be younger right?Thx for your response

• India
15 Feb 09
thx for your time & the response

• United States
17 Feb 09
hello krupesh which one is younger?, the earth or the moon? in the Bible it says that God created the Earth and then so on. so if this is the case, that means that the Earth would be older than the Moon, so the Moon would be younger than the Earth that we all live on would be. right? the way that i look at it is that one of the first things that God created was Earth. so to answer your question about which one do i think is younger in being either the Earth or the Moon? my answer would have to be the Moon. take care and have a beautiful evening.