Ever had a car crash?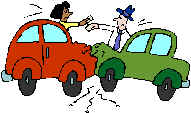 Latvia
February 20, 2009 9:23am CST
Luckily I haven't had any car crash in my 5 years driving experience! I can't tell that I am a very observational driver, I love speed and fast turns. That's why I bought my first car from second hands to not be sorry about little scratches and damages. I feel safe with my driving and people who sit in my car can relax really. I know that car crashed don't depend only from me, there are thousand of idiots who drive crazily and irresponsible, so on one can really trust their own skills, you always have to be ready for the worse on the roads. Just be careful!
2 responses

• Romania
27 Feb 09
i didn`t had any until now, and the police never stoped me until now. I just hope that will be from now one too. i had some trouble with other drivers , but i was prudent and i was the one that saled their life, and maybe mine too. I`m always carefull, but i must say that once, i must thanks to that driver, because i was passing few cars, and i though that i have time, but the one that was comming, slowed down to let me pass . I will never do such a stupid thing anymore!

• United States
20 Feb 09
I've never had an accident with my car. I've been driving since I was 16, and I'm 60 now lol. (Thank YOU God!! ...and knock on wood lol) I have been in accidents where I wasn't driving and was in the passenger seat though. I've always believed in driving defensively. In other words (for instance), just because somebody has a turn signal on doesn't mean he's going to do that, and just because they don't have a turn signal on doesn't mean they aren't going to turn anyways. Also, I think it's most important to keep the assured clearing distance, I see far too many people riding other cars bumpers on the freeway and such. Makes ya wonder, don't they remember from driving classes how far a car can travel before it actually stops?! It always amazes me that on the Autobahn in Europe, there is no speed limit, yet they don't have many accidents. I put that down to driver courtesy, being aware of surroundings and other cars, and driving responsibly. (You can bet that in US the autobahn system would never, ever work!)