Name your best buddy here in mylot.

Philippines
February 27, 2009 6:29am CST
Isnt it nice to know that someone treats you one of their best of friends? Maybe your friends here that you will mention in this discussion will be overwhelmed to know on how you treats him/her. You can mention up to 5 names of your best buddies here in mylot as long as you will say the reason why./
7 responses

• Philippines
27 Feb 09
Well, Coffegurl loves some of my discussions. Catdla, athough she doesn't know it. She's been diligent to respond on my discussions and we enjoy interacting. mbngold of course! She's my earliest buddy here. Theresa Aiza, my best local bud here. We talked over the phone last night. Hmm... You? Yes you, eventhough i don't see you on my discussion. Well i enjoyed yours and you respond well enough to keep me coming back. Honorable mention, pinks, hmm... The rest i forgot, you know who you are.

• Philippines
1 Mar 09
Lol! Oh, im sorry for that. I havent look so much for my friends discussion this past few days coz my net is slow and mylot is also slow. I cant promise but ill try! Lol! Anyway, thanks for this!

• Philippines
1 Mar 09
Not really. Im not easy to intimidate! Lol! I just dont have the time. Yesterday, i only have the chance to get online in morning.

• India
1 Mar 09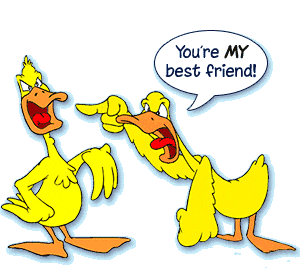 Hello my dear lockheart Ji,
I think, it would be injustice to all my friend to ever compare, when tehy are all at par. Further, I would have gone alongwith you, provided, you would have been an example by naming few of your's first. I think, I will be insulting all other my friends. I would reserve comparing them. All are good to me, including you, who even is not on my friend list, still I response. may god bless you and have a great time.


• Philippines
1 Mar 09
Actually, its not really comparing at all. You can mention all of them just state the reason why. Anyway, thanks for the response!

• India
2 Mar 09
Hello my dear lockheart Ji,
When all look alike to me, there is nothing to compare and make difference, difefrence only has caused great dis-satisfaction, I want to keep myself away. Please help me, you are not better charming tahn otehrs, all others are same for me. Please understand me. May god bless you and have a great time.


• Lapu-Lapu City, Philippines
2 Mar 09
I can't say a lot but I have lots of friends here. Of course, dhangski whom we consider each other as BOF (Best-Online-Friends), who introduced me here on mylot. I have salonga, mentalward, tamarafireheart, checapricorn, and littleowl who are always in my discussions. Thanks to all of them. And thank you too for being here...

• Philippines
3 Mar 09
Your welcome! Thanks for responding in almost all of my discussion even i havent to yours. Hope your friends you just mentioned read what you have post here! Thanks again.

• Philippines
1 Mar 09
im just new here in mylot and i've known some mylotters here who always extend their kindness to me.anyway here's my list of my buddies here in mylot. 1.aisaellis - she always respond to me everytime i ask her about mylot thing.seems she never get tired answering:) 2.marisriel - i thank her because she brought me here in mylot,if not for her i wouldn't know mylot:) 3.myraalmedo - her name is familiar to me because we are both members of a parenting site. glad to see her here :) 4.bing28 - she's part of my mylot history hehe!! i'll never forget her because she gave me my first and only best respone hahaha!! for now i will only chose 4 buddies,i still need to know the others :)have a nice day lockheart:)

• Philippines
1 Mar 09
Thanks for the response you give. You enumerate your best buddies and thats a good one. Thanks again and happy mylotting too.

• United States
1 Mar 09
My best myLot buddy is the person who told me about the site in the first place. He always visits my discussions and he always chooses the plus sign to rate my discussion. He is very supportive of my activities on the site.

• Philippines
1 Mar 09
I think that person is very active here. If i could know his name then maybe i would distinguish whether i already encounter him or if he is already in my friends list! Thanks for the response and happy mylotting!

• India
28 Feb 09
hii...Gud posting my dear friend..I have 4 buddies which i like most and they are the my best buddies also..We are togethere at everywhere in the outside..And if any problem exists for any one of them of themm we all be togethere and we will solve them..So they are my life and i like them most..And the same felling for them also they also like me and also trust me also..So since today no problem or quarrel haven't appeared for us..Gus posting my dear friend..keep amilimng..happy mylotting...



• Philippines
1 Mar 09
Thanks. Thats good to know that you have a very good relationship with your friends! Thanks for the response and happy mylotting too.

• Philippines
27 Feb 09
Though I have 34 friends here in mylot I still don't know them. I mean we never message like getting to know each other. Maybe all my friends here are busy to post and discuss discussions rather than to make friendship with others.

• Philippines
1 Mar 09
Messaging is maybe measures also the closeness of each mylotter but for me its not necessary. Just simply posting to discussions made by your friends can develop the closeness between you and others. Thanks for the response.