My Christmas Cactus is blooming in March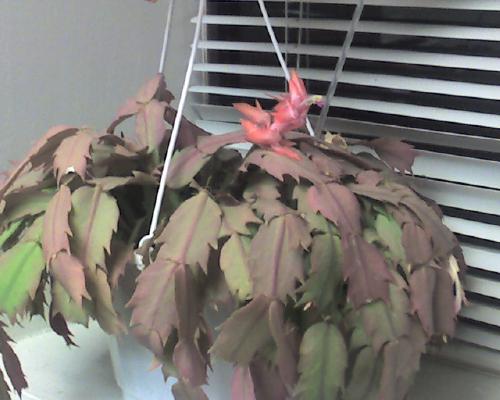 United States
March 3, 2009 11:26am CST
A few years ago my husband got me a Christmas Cactus that stays on the ledge in my office. Every year, I notice the buds start showing up shortly after Thanksgiving and by Christmas it's full of flowers. Then the rest of the year it just looks like a regular plant with no flowers on it. Last week I noticed that a couple buds were showing up - this was the end of February. Yesterday we had a pretty big snow-storm, a bit out of season for us, and I noticed I have a couple flowers on my plant. I guess it thinks it's Christmas-time since it's snowing out! I don't know how the plant knows when it's supposed to bloom, but this strange weather has got it all confused!
5 responses

• Regina, Saskatchewan
3 Mar 09
They're supposed to bloom?!!!!!!!! Well whodathunkit! I can grow flowers outside like there's no tomorrow, but indoor ones never bloom for me. Merry Christmas reiny! LOL

• United States
4 Mar 09
I also have a peace lilly that will bloom if I take care of it, which I really don't do too well... I only do inside plants, my husband does the stuff outside.

• United States
5 Mar 09
I've clipped plants before and taken the excess to make new plants. Sometimes it works, sometimes it doesn't...

• United States
3 Mar 09
lol, that's funny and cute. It's also a nice plus that you get to see it bloom again.

• United States
4 Mar 09
It is nice to see it blooming again, just kinda strange...

• United States
3 Mar 09
mine was doing great 4 months ago then bang the buds were gone, we had a little frost one morning and it's weining its way back. i do notice that here in florida i have to keep it out of full sun or the leaves get light colored. the bud's are on their way but it's taking it's time from the shock of the cold i guess.

• United States
4 Mar 09
The leaves on mine are very red, which is unusual for this time of year too. Normally they're green until the fall, before it blooms. The weather sure has been strange!

• United States
5 Apr 09
They go by the amount of light they receive, the temperature of the room they are in and the amount of water they get. Also, some cacti are sold as CHRISTMAS Cactus, when they are actually Easter cacti that have been forced. Zygocactus usually bloom in the spring. I had one that always bloomed for Mother's Day or for Easter.

• United States
5 Apr 09
I had never heard of a Christms Cactus until my husband got me this one for my birthday (12/25) a couple years ago. It's always bloomed in time for Christmas and remained dormant the rest of the year. It was just really funny that it started to bloom again - especiall since we had gotten a bit of late snow!

• United States
5 Apr 09
When I went looking at pictures and info last night, I learned that the actual blooming trigger is 13 hours of complete darkness nightly for a period of six to eight weeks.I do not know if that helps you or not. I got all backwards on which I thought was Christmas and Easter cacti as far as how they look. There is also a Thanksgiving cactus.

• United States
6 Apr 09
That's good to know, thanks!!! I know that poinsettas need like total darkness for days in order to bloom, but I've never done that for them before. It musta been dark for those few days when my Christmas cactus bloomed. That's pretty cool that there are ones that bloom at different times, I'll have to look them up and see what they look like!



• United States
7 Apr 09
When my husband first told me about it I thought it was just called that because of the colors??? But it blooms every year in time for Christmas.