puppies, puppies, puppies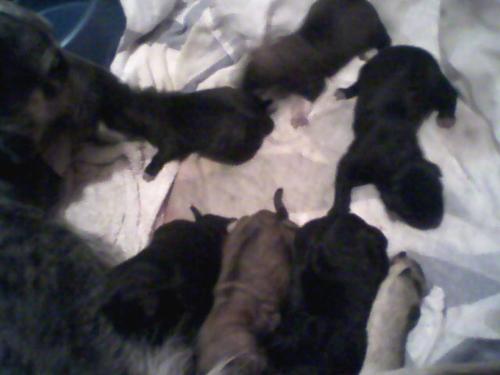 United States
March 4, 2009 9:00pm CST
To all my friends who answered my call for help when Sadie was having her puppies I want to say thank you. She had six that lived. We only lost the first one. My daughter took a picture with her cell phone and I'm going to try to upload it here. If the picture doesn't come through I will upload some of the ones I took with my digital camera but hers is a better shot.
6 responses

• Italy
5 Mar 09
so glad to see that everything worked out savak. I saw the other discussion when she was about to give birth. They look soadorable in the photo even though they are only just born. Congratzz to all concerned!


• United States
7 May 09
Nope we found homes for all of them Easter weekend. However now I have another problem. Last night it was raining hard and I heard a cat meowing outside. I tried to find it but never could. However she found our basement and had kittens there. When my daughter went to look for her she ran like a wild cat so I guess she is feral. I wouldn't mind a cat but I know sadie won't let them live if she gets her paws on them.

• Italy
7 May 09
Great that you did manage to find homes for them all

Oh I can see why you call it a problem about the cat

If her kittens are there she is obviously going to return tothem until they are old enough to fend for themselves and is there no way you cankeep Sadie from going near? Until last year I have always had cats and for some 12 or so years also a dog and they got on like a house on fire. Hope this new event will not cause you problems



• Philippines
16 May 09
I pity on Sadie now but i know not only that puppies there in your life , no worries there are left in your house. You can buy other to rpelace the lost one. Its normal to to miss our favorite cute puppy.

• United States
16 May 09
This is true, and while I have made no secret of the fact that dogs are not my choice as a pet I will not see them mistreated or neglected either. It is my belief that if someone takes a puppy they need to understand that it requires time and energy. It's a responsibility that people need to think about before they choose that cute puppy.

• United States
5 Mar 09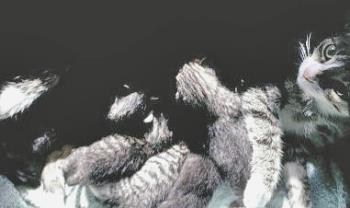 Awww--glad things worked out savak!! Way to go. Now you're the proud grandmother of...uh...puppies...LOL

Maybe I'll share my picture of my one female cat Whoopi who gave birth to six kittens ..this was years ago on April 6, 1993

• United States
5 Mar 09
I'm so glad it all turned out okay and Mama and puppies are doing well. After reading your story the other night I was about holding my breath waiting to hear what was happening next . Thanks for the sweet photo and letting everyone know that all is fine.

• United States
5 Mar 09
Cute kitties pye. I really do prefer cats but I couldn't stand to see Sadie in pain. I really did appreciate everyone coming to my aid because I had truly forgotten everything I had learned on the farm. Funny how it started coming back to me though with a little prodding.

•
9 Mar 09
that is lovely you have 6 puppies they may not be very profitable as and when you sell them they are very rewarding to bring up in their first weeks of life, I only know that because my little girl dog had a litter of pups and they were lovely, it was hard to see them go...littleowl


• Canada
5 Mar 09
As I stated on your photo, they sure look good and healthy for being new born. Six out of seven is pretty good. Do you have homes for them yet? Glad the birth went as well as it did. Have a great night.