How can you watching TV and doing your homework the same time?

United States
March 9, 2009 8:51pm CST
The other day, I went to my aunt's house for a visit. My 15 years cousin was watching TV, while he was trying to finish his home assignment from school. Although my aunt was trying to tell him to concentrate on his homework, it was just useless at the moment. Would you allow your kids watching TV and doing their homework?
6 responses

• Philippines
3 Aug 11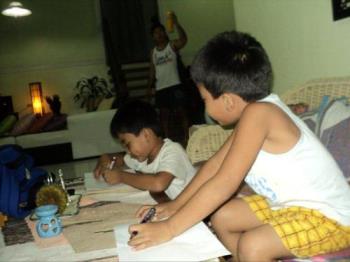 I can't allow my kids to do assignments in front of a TV set. The TV program will surely distract them and surely they can't do the assignment properly. So when it is time to do assignment, the TV must be turned off. They should finish first before they could ever watch or else they can't watch at all.



• India
10 Mar 09
Actually it depends on whats the assignment is.Whenever I had to complete something thats's manual lab work or mathematics then I used to watch T.V while doing those and those were the things that remained in my memory for long as I wasn't bored while doing them.

But things like understanding physical problems or different derivations of Physics couldn't be done while doing anything else. While I was in school I always had the music or Cartoons switched on while studying and never performed poorly

! It depends from person to person.If your cousin can grab what he is studying while watching T.V then there shouldn't be any problem.

Have a nice day!

• Philippines
10 Mar 09
In my opinion, NO. Usually we can't really concentrate on something if we are doing two things together. I used to be a student, I prefer to listen to music than watch tv while doing my homework ;)

• United States
10 Mar 09
I used to do my best studying while watching t.v. I actually felt that I leared more and did better. If I sat in a silent room, I just could not concentrate and would end up struggling with the assignment. Some peol ejust need background noise and stimulation to learn, I am one of those people.