Watch and relax.....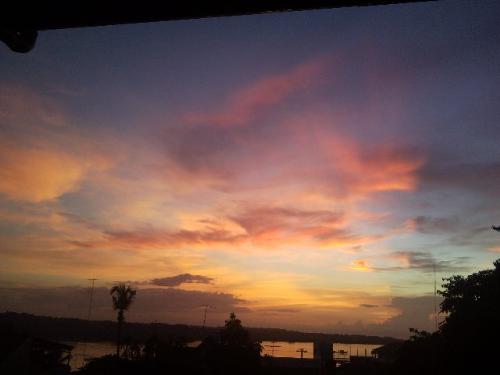 Philippines
March 10, 2009 11:00am CST
Part of my job is to travel as I conduct safety programs and safety training to different individuals. At the end of the day, I always find time to relax and drink a cup of coffee. The pension house that I was staying had this restaurant that has great view of the sunset. Of course, I took a picture. It was such a great view that it made me ponder about how wonderful nature can be. It also made me more relax. Do you take pictures of sunset? Does it also make you relax....
5 responses


• Philippines
11 Mar 09
I do agree with you. When in the city, it would be difficult to have a good view of the sunset considering that in most cases it is blocked by buildings. Moreover, we hardly had time to watch it since we would be busy at work. Well, I sure hope to see some of your sunset pictures later on. From what place are you by the way? I am from Cebu....



• Philippines
12 Mar 09
Hahahaha! I understand what you mean.

Being your friend you have thought me many things and that includes how to appreciate beauty. There is always beauty in nature right. I am hoping to see you then so we could appreciate it together and once again you can teach me many things....


• Philippines
11 Mar 09
Lucky you, that is one site that i love to see whenever i have the chance. Yes, i do find that relaxing. It is such a lovely site especially on the beach. I hope that our team building this year will be on another beautiful resort where i can take the time to enjoy watching the sunset again. Seeing this will really make you think of how lucky we are and how special and wonderful nature can be so we must take care and respect it.

• Philippines
11 Mar 09
Yes, sunset would be fun to watch in the beach. Whenever I am out on vacation with my family, we always wait and see the sunset. I love to watch it and just sit around the beach til the sun is completely gone. Well, I wish you will have a great team building activity later on and hope that it will be as what you wanted. Best to you!


• United States
10 Mar 09
I don't know about the picture of a sunset causing me to relax. I'm just awed by the beautiful colors. I enjoy seeing beautiful sunsets.

• Philippines
11 Mar 09
Hello there joyce. Yes, it is really nice to watch the sunset. You will always be amazed and awed by its beauty. Perhaps in my case, I am relax considering that when I am watching the sunset, I am enjoying my cup of coffee sitting in a chair. Or in most cases, I am in the beach with nothing to do.


• United States
10 Mar 09
I have before. I dont get to see many though I am usually cooped up in my house cooking or something. I wish I had more time to watch and relax.