How many are looking for jobs now? in this recession period?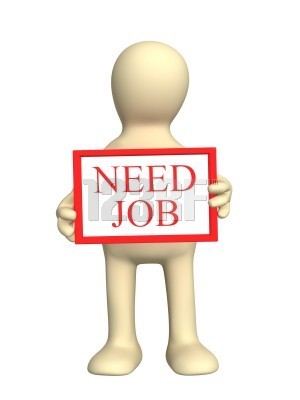 India
March 17, 2009 1:46pm CST
As i worked for 2 years and now i'm eliminated from my company and now in search of a new job on the basis of the course i have learnt nowadays.So how many get fired from their companies (i'm sorry i know its due to recession) are looking for jobs at present and how many are really struggling to get a good job? May GOD helps you guys to get good jobs...
7 responses

• India
16 Apr 09
Hi to all......... Right now, I ma undergoing a B Tech degree course in Electrical and Electronics in Engineering......... I will pass out in 2011....... I will be looking for a job only in 2011........ My college have campus interview........ So, that will make it easy for me to get a job......... I am also planning to go for higher studies......... HAVE A NICE DAY!!!!!!!!!!!!! HAPPY MYLOTTING!!!!!!!!!!!!!

• India
20 Apr 09
Okay that means you are pursuing 2nd year ECE right!So you should complete the exams in your 2nd semister isn't it?So how did you write your exams dear visakh?And where are you doing your Engg.?i mean in which College?And what are your plans after your Graduaion dear.So you are into this mylot so early and you can earn a lot dear.Happy mylotting and keep smiling.

• Philippines
15 Apr 09
I'm so sorry to hear that you're one of those who got laid off because of the recession. Our company got hit by recession, too. Although they say that they're following the Labor Code - which states that companies should not lay off employees, instead they should just cut the number of working hours. Anyway, I'm working full time still, and thank God for that. But I was one of those employees in our company who almost become part-time worker, and I was unable to accept that. I thought of resigning and looking for another job, but I like my current job and I just couldn't afford to undergo the processes of interviews and exams at the moment, since I am the only person in our family who has a decent, well-paying job. The rest of my family members lost their jobs, too, so now, I am supporting two families - my parents and my brother, plus my aunts and her kids with my other high schooler cousin who I am helping out with his education. Given a better chance and opportunity, I will find myself a better job, because although I like my work, the company doesn't give us benefits or incentives like they used to before the recession, and the chances of promotion or career growth is really slim.

• India
16 Apr 09
Thats sounds very sad dear.You are in great troubles and your salary is helping lot of your relatives and you are doing great and no one don't know when the recession will get recovered.Once the banks get recover everything will be fine and fair as usual.Anyways you got opportunity to help your family and your aunty's but in this crucial time its some what depressive.don't worry dear everything will gonna be okay and everyone will get their jobs who lost and with good and satisfied salary.Keep smiling dear.

• India
10 Apr 09
Situation is very bad at the moment. People are getting fired left and right. And obviously they are frantically searching for jobs but where are the jobs. Very very few companies are hiring. Also the competition is so high that the average worker stands no chance of landing onto a job in this market. Thankfully by God's grace I still have my job but I am also feeling insecure. My heart reaches out to all people who have lost their job and may the economy have a speedy recovery.

• India
14 Apr 09
I know that dear.Every where in the world knows and suffering with their jobs right now and i don't know how long it will take to get recovered. I think if the banks get recovered everything will goes to be fine dear.Amazingly at once the market has been drowned to almost zero.may god helps out in this crucial situation and may all of us get good jobs again and have a sweet smile on the lips.

• Canada
17 Mar 09
i'm looking for a job. i graduate college in a month and a half and i've been applying to jobs with no luck so far. doesn't look good. i had what i thought was a guaranteed job waiting for me but they called saying they had cut backs and will let me know if they are keeping me or not for this summer. i'm not going to sit and wait i'm looking for something but man i'm getting worried

• India
18 Mar 09
don't worry friend you will definitely get a job.be confident ehat you have studied and what you are going to do over there.try applying some other companies in which are of interest you are looking for?don't sit idle i think after this business year we will haves some openings in companies.see what will happen in future and all is to pray for GOD to get a good job and lets hope for the best.

• United States
17 Mar 09
I am also looking for a job right now. I wasn't fired, but my husband and I recently had to move because of his job, so now I need to find something to do in our new town. It is definitely not a good time to be looking for jobs! It seems like there are almost no job openings here. I have found a few job openings in the local area here, but they are in different fields than what I am trained in, so I am not really qualified for them, unfortunately. I have filled out a few applications here so far, but I haven't heard anything back yet, so I am keeping my fingers crossed that I'll hear back from someone in the next couple weeks. Anyway, hopefully we will all be able to find the jobs that we need! Good luck with your job search!

• India
18 Mar 09
yes you are right!i also did a job in some other field when market was good.now i came out of htat to learn some design course which related to me and when i started searching jobs in my field suddenly recession came and flush off all my dreams to get job in my beloved field.even i'm struggling to find a good job here.i hope in a month i will find a job in my field.and don't worry frind you will difinitely will get a job as you expects.i will pray to god for your job and needs for your new area.

• United States
17 Mar 09
Yeah im trying to find a new job. Even though I already have a job im trying to find a better one. One that pays more and I dont have to be on my feet all day which would be nice. But its tough to find a job now of these days with the ecnomy so tough I have looked in so many different places and cant find one. But hopefully soon ill have a better job.

• India
18 Mar 09
Best of luck for your new job and don't worry you;ll definitely will get a job soon.and its really tough finding a new job as due to recession and i hope we'll have some fruitful openngs after this business month.if everything goes well many of us will be very happy.

• United States
20 Apr 09
Hello sweetychandy7 I have been looking for a new job for the past 2 years... I do have a job now but my hours were cut immensely... I'm being picky on what jobs I apply for right now tho. However, I recently put the job hunting on a pause... my youngest is going on the 14th to get her tonsils removed... so I wanna wait til she's healed before I bring the job hunting back in action. I'm so sorry that you lost your job!

• India
15 May 09
Its okay dear and i am trying for a job too dear.May god see my struggle and gives me any offer!!!!dont worry dear your youngone will definitely will be fine with her problem and you will definitely get in touch with your job back and everything will gonna be okay....keep smiling dear...happy my lotting...