What have you done to cut back in these hard times?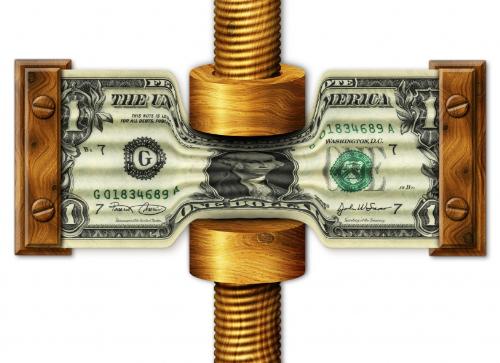 United States
March 22, 2009 3:14am CST
We all know money is tight right now and I wonder if others have made sacrafices like I have because of the state we are in. Since I am only 36 years old I am investing like crazy which means less expendible income. Why invest in the stock market now... in 25 years when I am ready to 'retire' people will be asking me how I got stock at such a ridiculous price. As for sacrafices:I have learned to keep a close watch on water/electric bills. I have learned to go out only when necessary. I have learned to use the internet to find the best gas prices and fill up when the market for gas is high on a certain day (before the prices rise at the pump). I have learned to eat better food (which costs more) but eat less of it. I have learned the library is a great place for free resources and not just books. I can get movies and even video games for free from there. What about you... what have you done in these tough times?
9 responses

• United States
22 Mar 09
I' ve cut back on eating out I don't do it as much. I ve have not been out playing Bingo as much going bowling. I try to get all my shopping done in one place and not do as much driving as I was to save on gas prices. It's hard out there with the economy the way it is.

• United States
23 Mar 09
Additionally to saving money, restaurants have actually raised the prices of their entrees (especially Darden Restaurants [symbol DRI]) which makes it that much more expensive. I try to also find deals so if I go bowling (which I do) I try to go when it is less expensive (during the daytime or finding an alley that allows you to pay by the hour). This also goes for my movies that I go out and see... less movies and when I watch them... matinee only. Thanks

Zelo


• United States
26 Mar 09
Well there a place hear that on Mondays you can bowl 99 cent a game. and every day movies that are already out not new ones every day is 99cent and on Tuesday if you bring up to a 5 gallon bucket they fill it with pop corn for 50 cent. I was meaning I try to stay away from the fast food resturants I have not actually been in a sit down one for awhile now.

• Germany
22 Mar 09
we did our savings by minimize buying stuff is not needed,not going out all the time to save petrol and money and eating in restaurant only for special ocassion and not every sunday anymore.just staying the house an dsurfing the net and if summer fishing with pic nic


• Germany
22 Mar 09
agree and thats the cheapest option anyway since the whole family love fishing


• United States
23 Mar 09
I ready learn to cut back on a lot of things during this recession. Less going out, instead staying home watch movie. Online you got plenty of movies to watch, instead of going to movie theater spending $10 per movie. I would like to work more, even just a part - time work. I could save some money myself. Less time to spend the money.

• United States
23 Mar 09
$10 for the movie, yes. But then add in the cost of popcorn and a soda and that is another $12.50 or so. Popcorn is so inexpensive to buy in the store (and a LOT healthier) and you can drink what you want to drink as well (whether that be soda, water, juice, etc...). Great post Thanks

Zelo


• Philippines
22 Mar 09
I am doing my very best to cut our family's expenses. I have to use less electricity since it is very expensive, cut the use of our car (I ride the public utility vehicle most of the time), don't go shopping if I can, and many other ways just to save money.

• United States
23 Mar 09
Every single lightbulb in my house is a CFL (compact flourescent bulb) which saves up to 75% of energy costs. I stress that if someone is not in a room there is no reason to have the lights on. All my appliances are energy efficient (refregerator, washer/dryer, water heater, air conditioner) as well as making sure I had radient barrier insulation put in my house when it was built. The result... I honestly know of no one that has a lower energy bill than I have. In fact I found a bill when I was single and living in a 500 square foot apartment and it was the same as my 2000 square foot house. Shopping is necessary only now... to say stop shopping makes no sense of course. Consolidating tasks when I go out has been a major thing for me as well. Thanks

Zelo


• Canada
22 Mar 09
With the gasoline prices going high, I don't use my car as often as before, instead I am using the public transport, buses and trains.

• Canada
22 Mar 09
We do similar things, with the exception of investing. Until I can see precisely what the stronger companies are that will still be in business this time next year. Right now, there`s nothing that I see that isn`t on very shakey ground financially. We`ve got very simple lifestyles, so there wasn`t much to cut back on. We always eat good food and eat well because it`s less expensive to prepare your own, than to go out.

• Canada
24 Mar 09
The main reason why we eat so well is because you're a genius, Vlad. You know how to buy cheap food, and cook it up so iit tastes like the most expensive thing on the menu at a 5 star restaurant. That SOUP we had tonight was perfect! The way we were drinking out of our bowls at the end said it all. :) Much better than the crud I was eating before I married you. Whoever said a woman's place was in the kitchen never met us. haha I love you.

• Hong Kong
22 Mar 09
I will eat less as I want to control my weight anyway. Kill two birds with one stone. I won't buy things until they are used up. Stop buy brand merchandises. Just like you, go out only when necessary. And I also stop changing hairstyle very often and stop buying trendy accessories. Hope this help a bit in these hard times.

• United States
22 Mar 09
I have done all that you just mentioned, and much more. I don't buy prepared food, all is prepared at home. I am switching into raw food, no preparation needed...more time and money, not mentioned health. I buy whatever is seasonal and only organic. Food is never spoil, because I dehydrate all fruits and veggie. I buy recycled clothes or on huge sale. I have to do this way, because my income is 1/2 of what used to be 2-3 years ago.

• Canada
22 Mar 09
Truth be told, my husband and I are two of the lucky ones. We are both on fixed income. I'm on disability, and he's on social security. We live in a small apartment in the middle of town near a bus system. Neither one of us can see well enough to drive, so we save a lot of money not owning a car. Our lifestyle is not an expensive one, so after food and household bills, we are able to have a little extra for ourselves. We feel bad for people we know who live more expensive lifestyles who do have to cut back. Since we are used to a modest existance (well by North American standards anyway) we're not really feeling the pinch the way others are.