foot tattoo OUCH!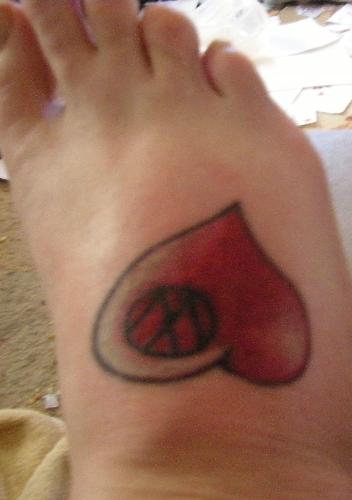 United States
March 23, 2009 8:49am CST
Do any of my fellow Mylotters have a tattoo on your foot? I got one a couple nights ago and it is sooo painful I'm a little afraid it's getting infected or something. This is not my first tattoo but it is the largest one I have. Around it is red and my foot is swolen. Not really swolen, but enough to where it is painful to stand. It feels a lot like when I was pregnant and my feet would swell. Has anyone experienced this? Is it normal? If not, what should I do? Would rubbing alcohol hurt the ink or anything?
2 responses

• United States
28 Mar 09
I don't have any tat's. (could never decide on one I liked enough to do it) But I've heard the less "fat" the more it hurts and most people have pretty boney feet. I hope it's doing better since you origionally posted this.

• United States
6 Apr 09
I have tattoos but not on my foot . I wouldn't put anything on it except for what they told you to put on it . Call and talk to the person that did the tattoo. The foot and hand are so boney , that is probably why it hurts . Please just don't put anything on it till you talk to the tattoo artist first.

• United States
23 Mar 09
I don't have any tatoos but I've heard that ones over bone hurt more than others. Call the place that did it and see if they have any suggestions. They normally do get red and swollen from what I have read about them. I hope you feel better soon!