great news! the stork has arrived...:D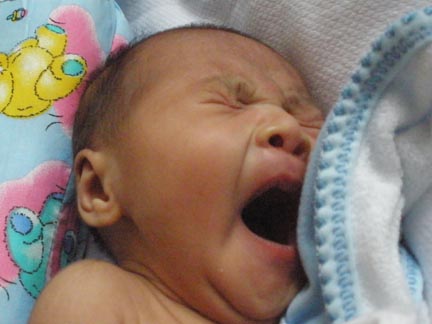 Philippines
March 25, 2009 8:33pm CST
This is the story of my baby delivery... Since Monday, March 2, I had already started feeling strong contractions, which persisted for the entire week. On Tuesday, March 10, we went to the mall for an afternoon walk and to speed things my labor. But I suspected that my bow was already leaking and so we passed by the hospital for assessment. My OB-gyne recommended that I be admitted to the hospital that night. I wasn't allowed to go out of the anymore, which was a wise decision. The following day, labor was induced. My bag of water completely broke around 10 am. But since the contractions became very strong that I passed out every 2 minutes, I was given epidural anesthesia in the afternoon when I reached 6cm. I really didn't know much about what went on, except the excruciating pain. The baby really wanted to come out the natural way and was moving down the birth canal. Around 9pm, the doctor already noticed that baby's heartbeat no longer had variations in the fetal monitor. She then ordered for an emergency C-Section. Anyway, after all the pain, our daughter was freed into the world at 9:41pm, March 11, 2009. It took awhile before I finally got to her and before I finally got to my feet because of the pain that I went through. But all is worth it. We have our little bundle and she is such a joy and a blessing. And she is sooo blessed herself, too. Thank you to my parents who stuck with me and are taking care of me now and my extended family who had all been very supportive and prayerful. Thanks to the moral and prayer support of friends. Thank you to my doctors, especially my OB-Gyne, Dr. Kate Jison, whose quick calls were crucial in the safe delivery of the baby, the nurses, and hospital staff who had been so friendly. So that is it. Baby is 15 days old today already. Thank you guys for all the prayers! You had all been so wonderful and supportive during my pregnancy! Happy mylotting! :-d
4 responses

• United States
1 Apr 09
I am so glad that she is here! I can't wait for you to send some [photos for us all to see. Perhaps change your icon to a photo of the baby. I know that you mush be relieved that your OB-GYN is such a great doctor. As I read your post, I couldn't help but think that things could have been so much different.

• Philippines
26 Mar 09
Congratulations on your safe delivery and on your little bundle of joy. Giving birth is everything but an easy process and getting out of it in one piece with your beautiful baby is indeed a blessing. My experience was a little bit traumatic. My baby was delivered two hours after I felt my first contraction. It was a very quick delivery. The problem was, I was bleeding non-stop and had to have a blood transfusion. Anyways, my daughter is now 3years old and she's such a joy to be with. The real hard work begins after birth and having family support is very important. A lot of adjustments have to be made. Your sleeping habits will not be the same and you have to attend to your baby's needs before your own. It can be stressful but it's going to be worth it in the end...Good luck and again, congratulations!



• United States
26 Mar 09
Cool I love to hear good stories about giving birth. It has been so long sense I had a baby my kids are 7 and 8 and I miss being a mommy to a little one. I mean I do not miss lossing sleep and all that but I miss that baby smell the little thing depends on you for everything and seeing them turn into their own little person is so cool, anyway congrats and happy mylotting to you.