Time to reflect.

United States
March 26, 2009 10:11am CST
What do you think about what you have done so far in your life? Watever relationships, career, family or anything? Do you think you have made a very good decision of doing something? Or you regret you did something wrong? I think life is a very amazing thing, it could be wonderful or awful. Sometimes you just make a decision then it can change your life. That's why my mom always says make sure you kow what you are doing, no regret, no "3 mins heat only" - it is a saying in my home country meaning don't give up easy like you just have passion on something for only 3 mins. Do you feel you are making your life better or life is making you miserable? I have been trying to overcoming some troubles and I hope I am making life better but not letting it drives me up the wall.
10 responses

• China
27 Mar 09
Actually i always regret about some decision in my life,but i wont leave my mind on this mood longer every times.I know today and future are more importent than yesteday so we should not think about some wrong yesteday.we should learn experence from the wrong we made and fix something in tomorrow.

• Philippines
27 Mar 09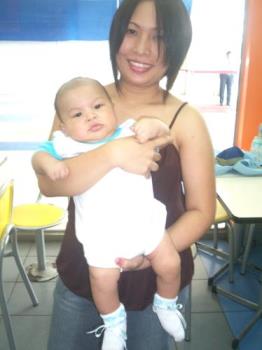 I have innumerable mistakes in my life. I regret hurting the people I love, especially my Mama but I don't dwell on regrets; all my actions are my decisions, the things I did which I thought were right during that time. All the consequences of my actions, though some are really unfair, I accepted in my life. I have been through many pains in the past, but that's history. I have reflected on my life. I may not be someone whom I envision years ago, I may not reach my dreams with regards to my career and building my own complete family, but I'm happy with my life now. I'm contented with my "single" life, especially that I have my angel now, my son, who will be taking care of me when I grow old.

• United States
30 Mar 09
I wish the best for you! Thanks for sharing! :-)

• United States
26 Mar 09
why reflect so much on life? life is to be enjoyed. to much reflection on our lives can be seen as vanity. than it again it is good to set goals. goals are what motivates us all to become better, stronger, and smarter. i do no think reflecting back on life to do in good. i would prefer to set goals for the future. a future with a promising reality.

• United States
26 Mar 09
I dont truly have any real regrets, but I have to say I have learned some things in life through the hard way...as my problems in life mostly have been financial....since I thought that credit cards were a good thing when actually they are not at all... I worked for 8 years getting myself out of the debt that I got myself into and now I will never ever want one again!! I have had some good jobs, and some jobs that I truly hated... but then again it was a learning experience...and I am now a full time mom, not the best of credit... with 2 kids, and a house that is a fixer upper...but I am happy with my life...I just wish we had a little more money to pay the bills on time.

--which is why I am online now..and found mylot!! happy mylotting!!

• Philippines
26 Mar 09
i feel like that for the 9 years of my life, i had made decisions and actions that i regret so much. everyday i am being hunted with all of that and makes is more to move on for the reason that i might made the same things from the past. it felt as if history is repeating itself... i am trying my very best to come up with good decisions and actions now, no matter how confuse i am and how complicated my life right now. i guess there is no point in meddling with what already happened, what important is, the present which will bring me to my future.

• United States
26 Mar 09

Thanks for sharing! Don't get upset, I'm trying to be positive too!

• United States
26 Mar 09
i don't reflect much. what's done is done & u can't change it. you just have to make the best of what u have done.

• China
26 Mar 09
I'm always thinking about how to make my whole life meaningful.I don't know what to do and not to say,how to do.The future ahead is out of sight.I do know I must do something to change it,but,you know,it's really hard to set out the first step.I'm trying to do everything I can to help me get out of the endless uncertain feelings.I don't know I'm glad or sad or angery ... The only thing I can do is just to do.I hope I will find my way some day.I'm trying to make me intested in something and to find the passion in my life.I always suddenly find I watching myself and others as if I were not "I" and the things were none my business.Nobody know my problems and I must deal with it by myself.After all,I can't abandon myself.

• United States
26 Mar 09
Hi mermaid...I try each day to make my life better - to do better in my job, to take care of my husband and son the best I can, to take care of myself the best I can. I think that's all any of us can do - learn from our mistakes and move on.

• United States
26 Mar 09
Very positive, I appreciate your optimissm very much, I wish I can be like that all the time. Thanks for sharing!

•
26 Mar 09
Personally I dont really reflect on the past, I live by my decisions today and tomorrow. What has gone in the past has been and done and you have to live with it. I only have one regret well not really a regret I wanted to be a pilot when I was younger, but saying that now I run my own successful mlm home based company so I guess if I had become a pilot I wouldnt be working for myself. All in all live for the day, as the only thing you can influence is what happens tomorrow. You also need to live with what you have done in the past but dont let those drive you nuts as that bit of your life has gone.

• United States
26 Mar 09
I'm glad to hear you are happy with what you are doing now :-) Thanks for responding!

• India
26 Mar 09
Reflecting is one of my favorite hobbies. But I do not regret much as there is no point crying over spill milk.So by learning from the experience of past I make my future and live in the present. I personally feel I have done ok in life.

• United States
26 Mar 09
That's cool! I wish you good in all coming things! Thanks for responding!