Baby shoes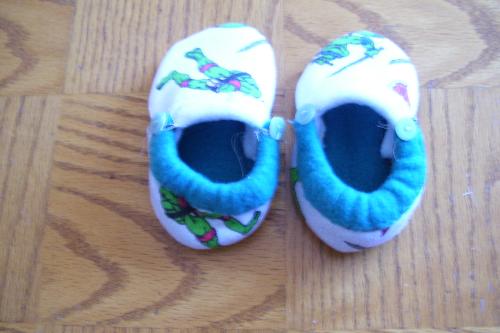 Canada
March 28, 2009 8:27pm CST
I got started making baby shoes for my Great grandchildren .I have a few pairs made and now making different outfits. These are very cute little shoes .Thought I would post is anyone wants the pattern I will give it to you. They are made with fleece lining.Making the pjs and quilt to match
6 responses

• Canada
29 Mar 09
I've been working on the baby booties, too, and out of 3 pair I have one I'm happy with....the other two pair have gone to 'bootie heaven'! So for a change of pace, I made a set of crocheted booties today and started looking at hat patterns. I swear I have Attention Deficit Disorder with my crafts!


• United States
6 Apr 09
How adorable. I would love this pattern. I have 2 coworkers who are expecting babies in a couple of months. Also, I have twin great-nieces! Your baby shoes look simple enough to make. Let me know about the pattern. Thanks!

• Philippines
29 Mar 09
The shoes are so cute. How did you do it? Can you post here the steps of making it?

• United States
29 Mar 09
I am so glad to see your baby shoes. They are very nice. Unfortunately, there aren't any babies around right now for me but I think that you could do well with this. I wish you well. Your talents will certainly bless some very special children.

• United States
8 Jun 09
Those shoes are cute, you did a great job.

• United States
8 Jun 09
Your baby shoes are so cute! My babies, aren't really babies anymore, and yet still young enough to have have any children soon, but I couldn't resist commenting on your cute shoes. You should consider making them and selling them on etsy.com. They sell handmade items. You could make some extra spending money making and selling them.