what is your treasured care bear and why?

Philippines
2 responses

• Philippines
2 Apr 09
My daughter has 3 care bears stuffed toys. She has 2 vintage ones: Wish Bear and Share Bear and one new edition: Whoopsy Bear. But I can see that her favorite is Wish Bear.

• Canada
4 Sep 10
My girls have started a collection going too! Most of them are from me though!


• Canada
4 Sep 10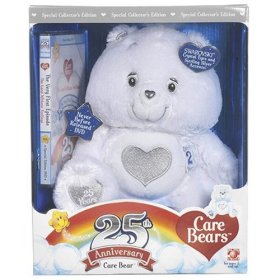 My daughters have inherited a ton of Care Bears from me because if I have 3 of the same care Bear then my daughters each get one, and that way we all have 1. My favourite one is the 25 Anniversary Edition one of Tender Heart Bear and I am the ONLY one in my household that has it! I haven't even taken it out of the box or anything! I will enclose a pic of what it looks like!