Twilight: all about twilight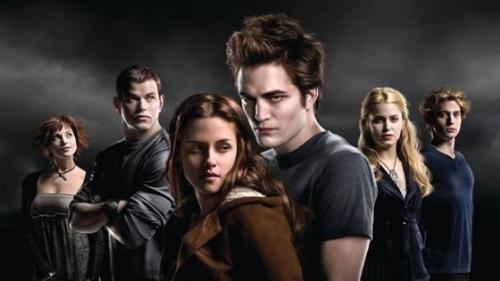 Philippines
10 responses

• United States
8 Apr 09
I have watched it, and loved it! It can pretty much be sumed up as a human and vampire falls in love. The vampire and his family do not drink human blood. The meet up with another coven of vampires and they are wanting to get to the human girl. The new vampires lure girl back to her home in AZ to try to kill her.

• United States
8 Apr 09
It is a beautiful, sweet story of a first love. its not really scary, it more suspense. I recommened reading the books before seeing the movie, but if you see the movie and then read, you will get more background on all the characters (my boyfriend kept pausing the movie to ask me what was going on with everyone, lol)

• Australia
9 Apr 09
I've seen the Twilight movie few times and I really enjoyed it, I've also read the 4 books and I've also enjoyed it, the Twilight book has more details compare to the movie, but still I think the movie is great. I think the responses already mentioned what is all about and I hope when you see it you'll also enjoy it.


• United States
8 Apr 09
I did watch Twilight but I read all 4 books before I watched the movie. The books go into greater detail about how complicated the situation is and it explains things a lot more in detail. The movie wasn't a disappointment though. Yes there were scenes I didn't complete agree with and thought some needed to me added but I'm a media major in college and I realize why they had to do what they did. But in essence Twilight is about a girl who moves to Forks Washington and falls in love with a guy who is strange and different. You get the hint of what he is, but it takes her about half the movie/book to figure out he is a vampire. The series goes on to explain how complex the relationship is and also brings in some "werewolves". Its a teen romance novel which a lot of people complain about because the image of the vampire is changed (i.e. going out in the day, etc.)

• United States
8 Apr 09
I strongly recommend that anyone interested in see twilight read the book first. I have read all and loved them. Twilight is about a human girl that falls in love with a vampire. There are obviously more twists to the plot and story than that, but it is well worth the time to read the books and get yourself caught up. I am 31 and these books were originally intended for teenage girls but they were written so well, they can keep an adult interested.


• United States
7 May 09
i love that movie...they portrayed a different side of the vampires...its a love story between a vampire and a human. you should watch it to appreciate it. You wont regret it.

• Ireland
22 Apr 09
I really recomend this film or book/books to anyone !!!! I know a range of people who have read and looked at the films and not one bad review as of yet :) the film has hot men and pretty girls and a good storyline what more could you ask for., It has love romance danger and heroes so how can you go wrong ????

• Ireland
22 Apr 09
i have read all the books and am addicted to the charachters and the film i am living for the day that the new film comes out !!!!

• Philippines
11 Apr 09
yes I watched the movie Twilight. Twilight is about a human girl, Bella Swan, who falls in love with her classmate who turns out to be a vampire, Edward Cullen. It seems so simple but it's not, really. There are lots of conflicts and twists in the story and I can't really give away even the smallest bit of information without telling you too much. I suggest you read the book first before you watch the movie because you would have a better understanding of the story if you read the book first. But, if you want, you can watch the movie first. But the movie has omitted some parts from the book so there are some scenes from the book you would not see in the movie. Have a nice day. :D

• United States
10 Apr 09
I have read the books and seen the movie. I love both. The basic plot of the series is that a human girl falls in love with a vampire guy. The series gives a lot of different twists and turns. It seems the girls life is in danger through the entire series, but I'm not gonna say how. I don't like spoiling things for people. I would advise reading the book before watching the movie, but you don't have to. One of my friends read the book after watching the movie. She did understand the movie better after reading the book, though. Ultimately, it's up to you. It is not a scary book or movie, but it is full of suspense. Underneath the suspense, it is a beautiful story about star crossed lovers, love at first sight, and true love that lasts for eternity.