White German Shepherds...not albino...just white?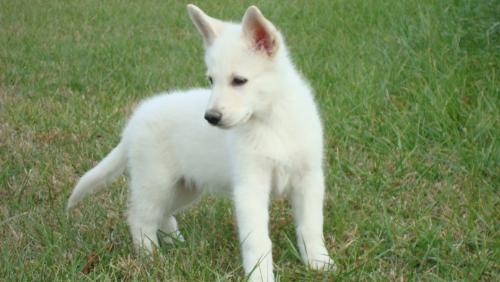 United States
April 9, 2009 1:09am CST
When my daughter was four years old, I promised her that she could have a puppy for her 6th birthday. Well, when her sixth birthday drew near, she reminded meof my promise. A friend of mine had a litter of pups that she had found and was willing to give us one. The one that drew my attention was a beautiful white puppy who had these blue swirls/specks in his brown eyes. The blue swirls reminded me of Vincent Van Gogh's painting Starry Night so we named him Vincent. When we took him into the vet, we drew the attention of the entire staff. The vet told us that rather than a mutt, we had acquired a white GERMAN SHEPHERD. I thought he meant that the puppy was albino but that is not the case. Have you ever seen one of these animals before? It is almost like finding a white tiger. They are so beautiful and come with wonderful loyalty in them. Livy J
5 responses

• China
17 Apr 09
Oh, that's amazing.I know due to their loyal and protective nature the Alsatian is one of the most registered of breeds.But you should take good care of your kitchen. This puppy is not a pet dog, trust me! I am raiseing one at home.

• United States
17 Apr 09
My husband's step dad is a veterinarian and he was brought up around different breeds. He has been working with the pup and training him. There is a touch of 'wildness' in him but already he is very obedient. He is also very protective of my daughter. He stands next to her or watches her as she plays. When a stranger comes up he stands in front of her and sits. I like how he does that. He has not been any trouble at all. He learns fast too. My husband is an excellent trainer. The dog also lives out doors so I think my kitchen will be fine. Sometimes we let him in when the weather gets really hot and he is still very well behaved. I have no complaints about him. We think of him as part of the family. Happy My Lotting, Livy J

• United States
9 Apr 09
My husband had a white shephard many years ago before I knew him and he was looking for another one for a long time without having any luck. White shephards are beautiful dogs and your dog's eyes sound truly lovely.

• United States
9 Apr 09
Thanks so much for the compliment. I just heard that the same girl who gave me the puppy decided to breed another litter of white shepherds. I believe the pups are about 3 months now. I am tempted to get another one so Vincent won't be lonely. Livy J

• United Kingdom
27 Apr 09
Vincent the white German Shepard looks adorable, in white he looks extra special. I was out shopping in a pet shop about four years ago and a lady and man came in with a mother dog and three puppies, white German Shepherds. Wow I had thought, how incredibly cute. Vincent's eyes sound amazing and you gave him a meaningful name. I think white German Shepherds are unusual. My dog Secret is a miniature poodle and he looks very unusual. His coloring is considered non standard. He is white with black dots and a bit of apricot. His pedigree name is Secret Party Circle and it suits him perfectly. His breeder got his mother and said she wanted to breed some more white and black mixes. All other poodle breeders breed poodles of solid colors.

• Chile
26 Apr 09
I have a friend who has a dog like that but she told me the breed was Swiss shepherd. They are rare in my country and it´s difficult to get another dog to breed them.

• United States
9 Apr 09
My old friend from high school had not only one but 2 white German Shepherds. I think they are beautiful and i'm so envious of you for having one. I really want one but my boyfriend also wants a German Shepherd but i'm pretty sure he want the traditional black and tan colors. So since we agreed to only one big dogs we probably won't get one. But should i come across one im going to make a huge effort to make him mine. I hope you have a wonderful fun-filled life with Vincent. Take care!