what kind of guitar do you have?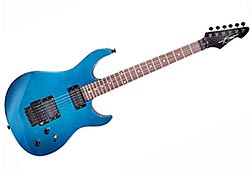 Australia
April 24, 2009 7:00am CST
im just wondering what kind of guitars people have. I have a peavey predator EXP in the metallic blue colour. it is described as an axe, yet it does not have the classic axe shape. what kind of guitar do you have?
5 responses


• India
26 Apr 09
hi all i have givson spanish semi hollow guitar its wooden color looking very beautiful what a sound it has got

•
25 Apr 09
If you have been a player for some time as I have (over 50 years) you tend to have a collection. They also come and go over the years as your demands and dreams increase. At the moment I have: Acoustic-Martin D45, Martin SD35, Ovation Balladeer, Yamaha steel string, Yamaha classical Electric-Line 6 700 in red and a Line 6 Acoustic. I count the Line 6 acoustic as an electric because it requires electric to run it. They are all great guitars for what I do. Have fun!