What's the criteria of beauty of a woman?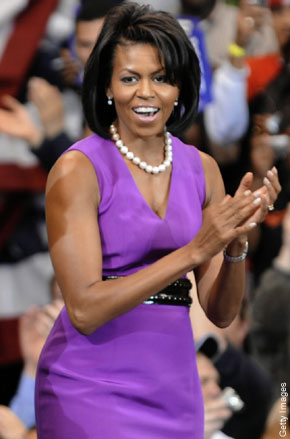 India
May 6, 2009 10:05am CST
Among the first 100 beautiful women of the world US First Lady Michell Obama is one of them.She is well dressed, well fashioned and well mannered. Is there any other criteria to be a beautiful lady?
5 responses

• United States
7 May 09
I believe the true beauty of a woman is her essence and who she is inside her inner beauty and personality that shows on her face.There is nothing wrong with psyical beauty but I think it's who they are inside that makes them truely beautiful.

• India
6 May 09
If I am not wrong, she is more famous & at no.1 because she is wife of the American President Mr. Barak Obama. If I say criteria of beautiful women is, She must have looks, smartness & well dressing and ya respect for others

• Philippines
6 May 09
It is written in Proverbs, "Charm is deceptive, beauty is fleeting. But the woman who fears the Lord is to bepraised. A true beautiful woman is a God-fearing woman who honors God above all and does not fear men in honoring God.

• United States
6 May 09
A true beauty comes from within, a good heart who knows how to love, how to give, how to care, how to forgive. Watch a woman as she ages. The ones with true inner beauty become more so as they age, it is in their eyes, the true window to their soul.

• India
7 May 09
To be physically beautiful is one thing, to be beautiful from within is a plus. When a woman is beautiful, it is a gift from God. We should see His hand in the workmanship. But radiance on the face comes from having a good soul and being a good person. Yes, carrying yourself with grace and dignity is also necessary to being a part of beautuful. Being beautiful means having all the traits. Ive seen the not so beautiful women having an aura around them that instantly attracts the opposite person. You get pulled to them. That is true beauty to me.