do you know ???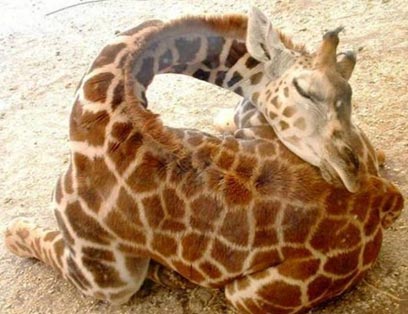 Tehran, Iran
May 14, 2009 6:27am CST
hi do you know giraffe have a long neck more of 1/5 meter and so thay are speechless?? yes thay are speechless and not able to exit any sound of larynx themselves ?? oh this is very hard and bad that be speechless . no???
3 responses

•
14 May 09
I had no idea, but thanks for sharing this information with us. I actually love giraffes, they are one of my favourite animals. I think they are kind and gentle and they look rather sophisticated having such long and elaborate necks! I suppose it makes sense that they cannot make sound from their mouths as it would take a lot of energy to get it all the way up their long necks. I am sure they use other powerful means of communication which are unique to them.

• Tehran, Iran
14 May 09
hi thanks for your idea , in the nature not is anything erratic, so if giraffe is speechless but have any means to communication and survive . thanks again :-)

• Netherlands
14 May 09
I didn't know they were speechless, but it makes sense in a way. I don't think they mind very much, must be nice and quite. They have other ways of communicating with each other though.

• Tehran, Iran
14 May 09
hi yes it is true,but after this they life is hard , for example when danger one giraffe how call other giraffes to escape ??? this is very hard!!!

• Indonesia
14 May 09
no way !!! I don't know that. thanks for sharing the information to all of us pal. Happy mylotting for you...