Are You a Light Sleeper?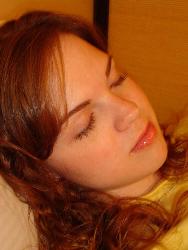 United States
5 responses

• United States
19 Nov 06
I sleep pretty well, but if I fall asleep knowing I have something to do, or not wanting someone to walk up on me, I'll wake quickly and just in time.

• United States
20 Nov 06
When I was young I lived in a really creepy old house, I wasn't able to sleep there... There, happy?

• India
12 Nov 06
I am the opposite I guess. For starters I just don't get sleep. There are times when I don't sleep for a few days running and when I do sleep I sleep for 2-4 hours max at a stretch. But when I do sleep, i am a sound sleeper. Nothing wakes me. I have even slept through an earthquake in the past.

• India
1 Dec 06
I don't know about mentally (always believed I was a nut case in disguise), but physically, yes, I am able to function fully. I mean, I have never dropped half way through work, nor am I any less efficient than I was a few years back. I would not be a manager, second in command at my work place if that were the case. So, in all, it affects me emotionally more than anything else, because at my core, I love to sleep :)

• United States
18 Nov 06
I can sleep through thunderstorms. But, if there is so much as a pin dropped in my house, I am wide awake. The only other time I will wake in the night is if my husband gets out of bed. Wide awake and searching for him. I have a hard time going back to sleep once I have been shaken from my sleep.


• United States
21 May 08
Yes, I am a light sleeper and can't sleep even with just the sound of the dripping faucet in the bathroom much less with my snoring hubby. But I never use mask or ear plugs to be able to get sleep. I just don't know but I dose off eventually.