We Had A Family Night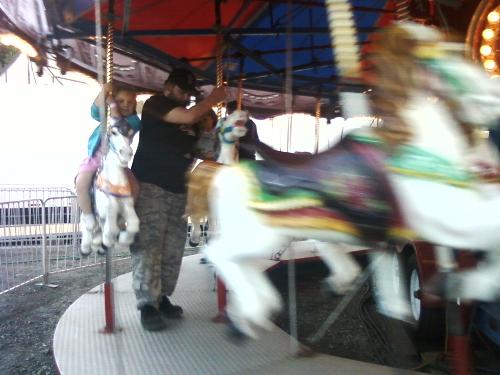 United States
May 23, 2009 3:45pm CST
Last night My husband, me and our 2 daughters went to the local fair. It was the first time in a very long time we have done something like this as a family. Unfortuanally my stepson was with his mother since Friday after school, so he wasnt able to go. I didnt think they would have as much fun as they did but they had a blast. My oldest daughter went on 6 rides 4 times each plus the fun house twice and the fun slide once. We definetally got our money worth for her wrist band. My youngest daughter we didnt get one for her because we didnt think she would want to go on any rides. She did manage to go on the Merry go Round and the fun slide. Do you go to fairs as a family or do you just go by yourself and only bring a child or 2. How do you manage a fair?
3 responses

• United States
25 May 09
the fairs now are not the same as when i was younger. I worry about pick pockets, scammers and gangs. if we do go we all stay together. I would rather take them to an amusement park. sometimes we would take their friends too but no more than 2 extra kids.


• United States
23 May 09
When we lived in Dallas we alwas went to the state fair, and really enjoyed it. My children and their friends spent many days at six flags and now that we live in south Texas they make the parks in Houston and San Antonio too. At this point they make the local fair and celebrations with their own families and it has become a family tradition to all get together and do something like this every few years. Although our last family outing was in Moab, Utah. Just know that it pays off in the long run. We still have a close family and they kids have been out of the house for several years now.