BEGGARS in Philippines

Philippines
June 23, 2009 11:09pm CST
In this country, you could see those innocent kids with dirty clothes, pale mothers with babies newly born on their arms, weak granny's, walking by the steets, stand by on restaurants, on entrance of malls, waiting for some blessings...they are everywhere...asking for a peso or any amount, foods...even leftover they would take. Some of them sleep in garbage dump, some where under the bridges, or sleep in the steets with the old newspapers or empty sacks at the back. how would you feel seeing this people in your place?
10 responses

• Philippines
24 Jun 09
there are times that i no longer pity them because i can see that the parents are the one instructing their kids to roam around the street and beg for money or food. i do not give anymore money, i always bring biscuits or candies to those begging or for some children cleaning the shoes inside the jeepneys.

• Philippines
24 Jun 09
yeah! there are in some cases, sorry to mention that other parents are irresponsible, yeah as what you've mentioned! they are such a sick parents who don't even care for their kids, by pushing these innocents to suffer in the streets. We should be thankful and feel great because our parents give us the best treat. Our parents pay their life just to save our lives. Too sad for innocent souls as those kids in the streets. thank you so much! enjoy here in mylot!

• Philippines
24 Jun 09
The problem really lies with the people and the governments lack of assistance to the people like them. In regards with the kids, the government should put them in a shelter. For the old people put them in a home for the aged. The mother with new born babies should be given a support or some kind of livelihood. But the sad part is that the government fell short to help those people. If proper action is denied to these people then expect that their number will be increasing especially that we are suffering financial crisis.


• Philippines
24 Jun 09
yes! that's right, thank you for your comment, generally speaking yes the suggestion you've mentioned should have an action from the national government! i guess they have a written solutions with this but not effective or really not been put in action, for all we know in our country, the president traveled far to neighboring rich countries, in Brunei, Middle East,Western Countries and US, to ask assistance but were are those relieves, goods and cash! all been diminished or totally vanished!and yet the these poor people are still in their miseries. im very proud to say, here in our place the local government is doing the best! let's be happy anyway, always smile here in mylot!

• Canada
24 Jun 09
I would be truly sad to see this. I have had friends visit poor countries and bring back sad stories such as this. If I was there I would probably give them most of my spending money. They need it more than I would need some silly little trinket to prove I'd been there in the Philippines! Leaving behind some kindness is more important.

• Philippines
25 Jun 09
thank you for your good intentions. yes this a true image in this country, there are rich who are standing like a strong concrete building, entertainments, malls, groceries, luxurious hotel and restaurants, giant establishments, almost everything that you could see in developed and industrialized country you could also see here, but on the contrary there are poor, weak as drought plant, skinny bones, crying children and begging to feed their hungry stomach. this is normal here, best wishes for you!

• Philippines
24 Jun 09
Of course you would feel sad that there are people that are really suffering extreme poverty. These people seemed to be hopeless in life and is struggling hard to make things end. But of course, we should be aware that there are syndicates around taking advantage of these people to beg for them. In exchange they are given measly place for them to retire for the night and sometimes given food by these syndicates.

• Philippines
24 Jun 09
Very sad, it's so many beggars here in my location. I want to help but I can't because I got only exact money in my pocket everytime I see those beggars. I pray that the time will come that there will be no more beggars in country.

• Philippines
24 Jun 09
i dont want to see any beggar on the street.! if i would be rich, i give them a nice shelter, foods and also a work.the people ,became a beggar it's because of lack of money,and didn't have a nice work.

• Philippines
24 Jun 09
so make money from here friend then you could give them even a little, yes one of my target these days is to have at lest $20 this week, i will accept five to ten tasks that worth $2 each hope that would make my earnings here increase then i could purchase at list a bag of noodles and some affordable foods, it would be little gifts but heartily given. yes i will work good, im excited to finish at least two writing tasks a day. i participate to at lest twenty discussions and i started at least ten new topics a day, we could have a chance to help beggars through our earnings here in mylot! enjoy here in good luck!

•
24 Jun 09
Hi zearah, it so nice that you do this myloting to help beggars on the street. Instead of soliciting money here in mylot, why don't you go to the DSWD or other government sector who are responsible for this. Coz people here in mylot, do myloting for the money too for themselves and for thier family like me. I don't think i can spare my one penny here coz it takes longer to earned and reach payout here. we are working hard too here. If you really care for them, go and asks a help to the mayors and other politician's. Peace Happy posting.


• Philippines
26 Jun 09
It feels so merciful on them but I have nothing to do about it. If I am rich, I buy lots and give to them free to where they stay and live with dignity. That's my dreams, for this people. But It is unfortunate that I can't help those people. I hope those riches are give them places like what I dreams....

• Philippines
26 Jun 09
yeah! so pitiful to those fellow, they were so unlucky materially but in the eyes of God all of us are equal, even me i think that way, yeah i agree with you! if only i am rich i would do the same as what you wanna do, to help and give them support and help them to have a new life style, to live normal and happy like us! thank you so much!enjoy your stay here in mylot!

• Philippines
27 Jun 09
Don't mind about it my friend. I only give response on your discussion. Didn't you notice that we the same principles for them? You are right that all of us is equal in the eyes of God, but the problem is we are not equal in the eyes of men. The government that responsible for our welfare and development leave us. Politicians forget what they promise onto us. I wish I am a politician, so that all money I get from the government will use for public service and create a progressive city for everyone can make a good living...take care my friend add me here please

• Philippines
24 Jun 09
yes i seen them everyda because i am from philippines too... those beggard uve seen on street are lazy..they can work hard and do anything so they wont be beggars... and i hate them...because they can work selling newspaper. or clean the road and work for the government as a cleaner...hehehe....

• Philippines
25 Jun 09
i respect your opinion, you're correct as what I've see here in our city the things in your mind, are what you could also see here: beggars man and woman before now street sweeper and garbage collector with pay, a dirty uneducated child during those times now an honor student, a weak granny before now in home for the aged, a mother and infant in the street now in a simple decent home. these are some who benefited from the help of local government, but in Philippines as a whole beggars are still rampant. thank you for sharing your idea.enjoy here in mylot!:):):):)

• United States
25 Jun 09
Bang323 I can say that some of those who are considered beggars can lack doing anything if they are not willing. Yet who are you any different or better? Do you live in the minds of those who go through living in the streets with no home? What's your point going around saying you hate them? For what reason? You should be ashame of yourself! I've been to the Philippines, lived there and it even sickens me what you even say! Say you had family or relatives that were beggars how would you feel?

• United States
25 Jun 09

•
24 Jun 09
I feel pity on them, i do share my foods to them but not a money. Our government must do something for them,give them shelter and jobs so that they can buy thier own foods. The government need to help them to start a new life or else they will be hopeless. Happy posting.

• Philippines
24 Jun 09
yes! that's a very good suggestion! well actually as i have mentioned already in my comment to a reply of a prior respondent, yes! our city mayor had already implemented city ordinances in favor and for the benefits of those beggars like several reserved slots of job vacancies intended only for them, many were already started to work, but unfortunately there were few who have not yet given those privileges due to some measures or procedures still to be followed up! your reply anyway is a big contribution in this topic, thanks! and smile here in mylot!:):):)

• Philippines
24 Jun 09
Hi kababayan, even here in our place there are many beggars in the street. Yah your right some are mothers with their babies, kids with really a dirty clothers and others sleeping just in the sidewalk. Before when i was working i always see street children outside my workplace. I dont know where are their parents, some i have interviewed said that they have no longer parents, some are run away with their home. Well i hope the officials will address to this problems, i hope street children should be put in a proper place as well as those who sleep in streets.

• Philippines
24 Jun 09
yeah here particularly in Davao City, the beggars population has been minimized because of our honorable city mayor. he made a city ordinance relating to this people, he had projects that helped this people a lot. though there are still few who are keep on suffering, hope soon they would get some relieves and jobs to earn in a decent way, i hered some of them were hired as street sweeper, and some in public canteen as helper or utility staff depends on their qualification,some were care taker in public schools, thank you for replying kmaram!

• United States
25 Jun 09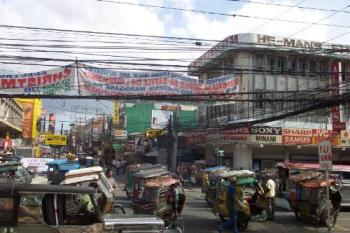 I have walked the streets throughout Bicol Camarines Sur. From living to Ragay and been through Naga City I have seen many homeless children and people. For those that beg or even ask for some money just to have something to eat I don't hesitate to give hand. Even if it is just a bag of pan de sal or something I bought from Jolibees, if a child even asks if he wants it then I wouldn't mind giving him/her the bag. It's tough living in the Philippines to see those that live out in the streets. I remember watching Isang Bandilla or TV Patrol about the homeless that live underground in the subways across Manila. If I could change one thing, or say if one day I did win the lottery, made millions of dollars, I wouldn't hesitate to give a good ransom to those that are in need. Even for families and relatives that I do have in Bicol, I wouldn't mind giving a set of food, clothes, shelter and a place for them to live. What is even more convenient is giving without expecting anything in return. That is how I feel inside when I see my fellow filipinos suffer in the streets of the Philippines.

• Singapore
25 Jun 09
I do feel so bad about them. Back in India (my native place), we too have a lot of beggers, at temples, in station n all, and we give them whatever change we have when they approach us. Infact in india , we have a lot of religious ocassions, in which we have to give something to beggers on those days, so we go to temple give them whatever possible...

• Philippines
26 Jun 09
aha! that's a good practice! nowadays only few people who would feel pity and show concern to those beggars because most of people are working hard especially that we are in the midst of crisis, seeing those beggars would make them think that these beggars are lazy, dirty people, and that's the saddest part! thank you and enjoy your day!