Indian Call Centres - do YOU work in one?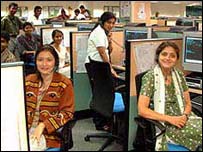 Australia
9 responses


• Australia
13 Nov 06
So you feel that you are being harassed even though you're the one doing the calling? That is interesting. I know some people can be quite rude, but they do get fed up with five calls a day at dinnertime and afterhours. How affective for the company you work for is it?

• Australia
13 Nov 06
hmmm good question! would be interesting to see the other point of view....

• Australia
13 Nov 06
I have to wonder with some of the stories I hear from around here about what they say to them to get them off the phone... they would have to hate us :S

• Philippines
25 Dec 06
Well, I guess this post is only directed to outbound sales agents.


• Australia
18 Nov 06
I do not work in a call centre and whilst I accept that everyone has a job to do, it is most annoying to have someone try to sell you something over the phone. More so, when they are persistent and will not take no for an answer. However I am not rude, although these days we have an unlisted number so do not get the calls. :)

• India
13 Nov 06
Hm....i am not working in call centre and also i hate seeing girls working in a call centre......

• India
13 Nov 06
I am working as a Team Leader in an Australian based call centre.... Its been 2 years now so I am used to it now... Some people dont like telemarketing and I understand their concern... Sometimes we even get to hear racist sentences... But they should not forget that its their own company which has hired us to do that job...

• Janesville, Wisconsin
1 Jan 07
There is no way I could work in a call centre. I can not stand talking to rude people on the phone. I just hang up on them, and I do not enjoy talking on the phone. I do however hope all you who do work in call centres do well and earn alot. Take care, - DNatureofDTrain

• Australia
2 Jan 07
Hey Guys, I work in a call centre in Australia for a large telco. Personally I don't enjoy dealing with rude people at all, unfortunately I am required to on a daily basis. The money is great and generally it is quite rewarding to bring a rude person back down to earth. The general concern from my customers who whinge about the telemarketing from Indian call centres is the invasion of privacy around dinner time and also the general hard sell approach. For some reason the Indian people who speak english don't quite understand the dialect and come across as very pushy!!! Personally I will continue in my job because it has many more good points which out weigh the rude customers. The law of the universe will look after the people who are generating the negative energy 8) Craig Hocking FunHomeBiz