Finally had my baby girl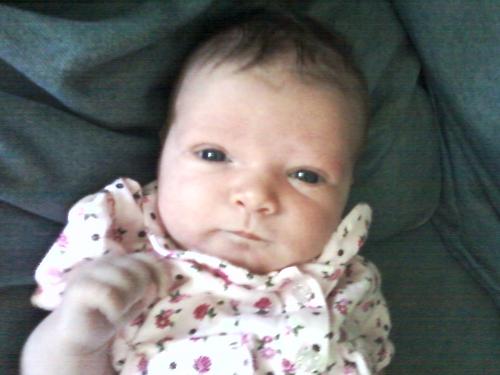 United States
July 21, 2009 12:28pm CST
I finally had my baby girl July 10th!! We are so excited to finally have her here. bn bnnmnnnnnnnnnnnnnWe really thought I was going to go early as both my older girls were 4 1/2 weeks early. We named her Dakota and she made a late arrival of 40 weeks 1 day. It's still so hard to believe that she is finally here. It doesnt seem real to me, not yet anyways.
6 responses

• Trinidad And Tobago
22 Jul 09
Congrataulations,,,,,This is great,, U can't believe it yet,,That's what I call HAPPPPPPPPPPPPPPPPy,,Take good care of urself and the baby

• Australia
27 Sep 09
Hey, That is really quite good, congratulations! Many people struggle to have a baby, some just can't seem to fall pregnant. So for you to have a baby girl, it is a real blessing. I hope you have a great family! Make sure you have a good day, God bless and Happy Lotting!!

• United States
23 Jul 09
Congratulations! How wonderful for you! It will be real enough when you have to get up in the middle of the night to her cries, lol!

• India
21 Jul 09
Hello mangrylouyu this is checkmail and very very heartly congradualtions to you and your partner as well as your family for having an Babygirl.Its seems to be new arrival of a person in your home, family and among us.Wish i could express it, how happy we all are after her arrival, its really a good news after a long mylot day.In my culture arrival of Babygirl it is considered as the arrival of godess Laxmi.Hope you are enjoying the moments now, cheerish it.Love all.


• United States
21 Jul 09
wow congratulations! All girls huh? You're going to have your hands full! All three of my kids were late. My daughter was due on the 9th, she came on the 13th. The middle one was due on the 11th, she came on the 16th. My son was due on the 24th, I was induced to have him on the 28th. Who knows how long he would have camped in there lol. I think I probably was getting close, but my blood pressure was starting to go up so they wanted to get him out before it became a problem.